iCare Rehoming Board: Kittens & Cats
Hi!  I'm Spectre and I'm a very sweet cat, about 7 years old and despite growing up, I have never lost my cute little kitten meow.  I might be shy at first, but I love to be pet, getting cozy under the covers, and finding a nice sunny spot near the window for a cat nap.  I am very much a lady and am always impeccably postured with my tail wrapped neatly around me.  I don't go outside but find time for adventures and play at night.  I have lived with a dog most of my life and am always running away from her, so I would prefer a home where a dog isn't constantly bothering me.  If you are interested in adopting me, please contact Paul at pipspadaro@gmail.com or at 704-808-0409.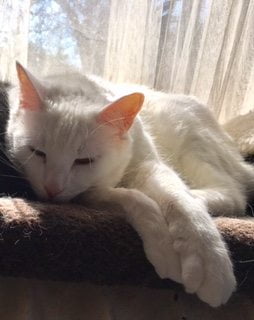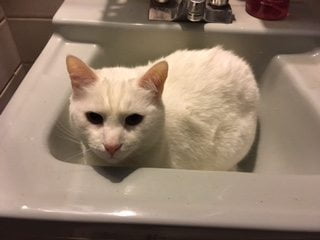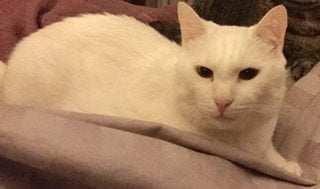 I am Cap'n Jack.  I'm almost six years old and weigh about 14 pounds. I'm an indoor, declawed cat living with an obnoxious 8-pound miniature Dachshund who terrorizes me. One of the other dogs does not like male cats and growls at me sometimes. The other dog completely ignores me. I get along fine with the other cat. I love my parents but only snuggle with them in the bed at night for a few minutes when I think it's safe. I spend most of my days in separate rooms of the house away from the monster dogs. I'm very sweet and really want to come out and play and, you know, do cat things. I do once in awhile when I know the dogs are outside. I love to chase things and scratch on my catnip-laden post. If you want to talk with my mom about me, you can email her at kamooney.17@gmail.com.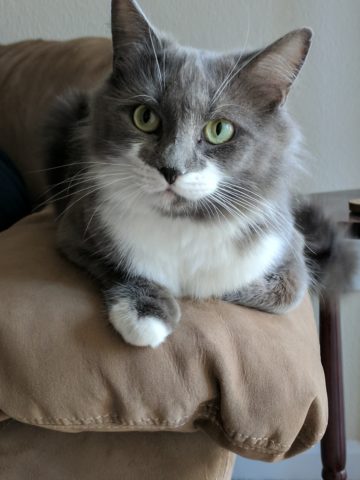 My name is Tali, and the animal shelter got it right when they said I was a personal assistant. When it comes to cooking or working on the computer I'm there to help. Door greeter? I'm there too. Keeping tabs on everyone outside of the window? That's my specialty. What the shelter did not know was that I like to work alone. I do not get along with my owner's older cat and I'm not too fond of their rabbit either. But if you are a laid back household with an empty nest that needs to be filled I'm your girl. I'll be your (usually) quiet companion who needs only occasional petting and a warm place to sleep at night. And toys. I love toys and empty boxes. I have been fixed and have had all of my shots and am in perfect health. At just 2 years old, I've got plenty of years of assisting left. If you are interested in meeting with me or learning information, please reach out to Kate at truut2@gmail.com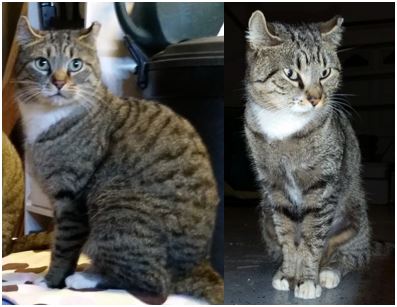 Hello! I'm Mama. I'm a beautiful lady with sweet "American Curl" ears. I just had a small litter sometime around May 2017 and have since been rescued and am in search of a forever home. I am SUPER cuddly and loving and I love being petted, lounging on my human's lap, or in their arms. I really LOVE hugs! I roamed the neighborhood for at least a couple of years before my rescue but am now learning the joys of being an indoor only cat. But, I may always long a little bit for the outdoors, so my new owners should be experienced and able to keep me indoors. I have struggled to get along with other cats but have gotten much better recently. Still, my ideal forever home is one where I can be the sole kitty with one or more humans who also love cuddles! I weigh about 10 pounds and can be reached by contacting Andy or Gina Head at a.head@earthlink.net or 704-798-5540.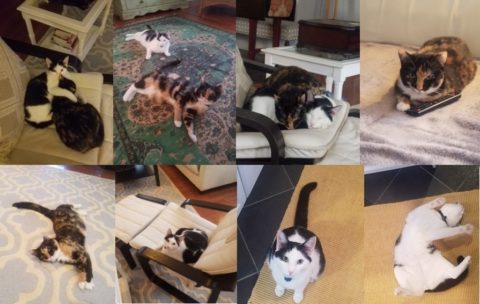 Mouche and Moomin, inseparable dynamic duo, yin and yang of the cat world, brother and sister, best buds.
Mouche (black and white male):
Do you want more than a cat, a friend or maybe a snuggle buddy?
Mouche is a lover, not a fighter. He talks to you, watches TV with you and cuddles with you but will disappear at the first unusual noise he hears.
There is nothing in the world that makes Mouche more happy than to be petted. He will curl and twirl till you reach all his spots, then he will try to find a cozy pose (for him) so you can continue caressing him.
He is the most intelligent cat you have ever met. He responds to his name and comes when summoned. You can easily train him to do tricks (we played "half-fetch" often—you throw a toy, he runs to it, picks it up, then looks at you , then drops it, then comes back to you).
He loves his sister Moomin and always treats her with respect. Unlike her, he likes to party at night sometimes.  He is extremely curious and has a passion for digging the dirt out from pots of flowers.
Moomin (calico female):
You know that quirky, artsy girl that always does her own thing? Moomin is the cat version of her. Strongly independent and quiet, she seems to be studying everything intently all the time. There is a hidden meaning to the world around her and she is determined to find out what it is.  Not easily scared, she will investigate that strange noise coming from the other room. With a cat like defiance, she will sit on her armchair while you vacuum around her.
Always in her own bed around 10 PM, she doesn't like to stay late and party like her brother Mouche. She loves him and indulges his play requests sometimes, but prefers to have her own space.
Vocal only when hungry, she will talk to you and explain why you "hooman" should feed her.
Once she warms up to you, she will let you pet her, and even snuggle with you and watch TV.  She loves documentaries with birds. She mentioned a few times she would like to study them in college.
She is extremely studious and has a passion for small birds, bugs and dead leaves.
Summary:  Mouche and Moomin are bonded siblings, nearly one year old.  They need a new home because the owners moved overseas, suddenly and unexpectedly, for work.  The kittens lived indoors with a couple without children or other pets; however, Mouche and Moomin are used to older (teen/tween) children in their foster home.  They are healthy, spayed/ neutered, fully vetted and litter trained.  They would probably do best in a home with older children.  They are not yet socialized to dogs.
For more information please contact Trisha at mrsdozer@yahoo.com. Thank you!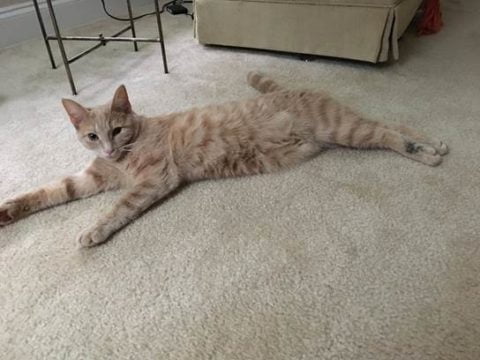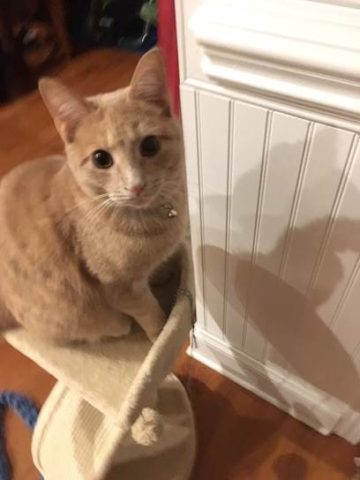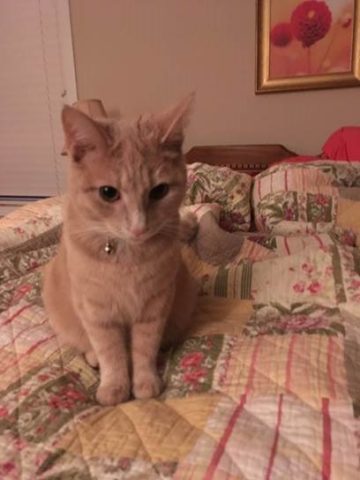 Hello, I'm Wiley! I'm a playful and communicative one-year old male. I love long naps during the day, and playing with my string in the morning and evening. I play outside everyday and would enjoy a home where I can roam inside and outside. If you're interested in learning more about me or becoming my new family, contact Thomas Maier at thomasbmaier@gmail.com.
Hi, my name is Polly the polydactal kitty!! This means I have extra toes for you to enjoy! I am a declawed kitty so if that's what you are looking for than I'm your gal! The new baby is stressing me out, so I'd do better in a house with older kids and teenagers. I enjoy attention from my big people and would love to  be your companion if you are an older family that would enjoy a quiet sweet cat. If you are interested in me you can contact my mom at mindyrpowers@gmail.com.
My name is Pepper! I'm a four-year-old male who has been neutered and is up-to-date on my rabies vaccine. My mom and dad say I'm always dressed to impress since I'm a tuxedo cat! I love people, napping, and watching the birds and squirrels outside. But, I'm an indoor kitty and am just fine with that. I don't care to be picked up but I have a strong blanket radar! When mom and dad sit down with a blanket, I'm right there to curl up in a lap! Some nights, I'll snuggle up with them in bed, too. There's a big dog in my house but he doesn't pay me any attention and I like it that way. I need a new home for two reasons. One, I'm not an only kitty and I really want to be the boss. Admittedly, I can be quite the bully to one of my female cat-mates. And, two, I need a special diet for urinary health but I really, really want to eat the same food that everyone else eats! I know my mom and dad will be terribly sad but I have lots of love to give to someone else. If you would like to meet me, I can be reached by contacting Melanie Harris at malowder@me.com or 980-621-1884.