iCare Rehoming Board: Puppies & Dogs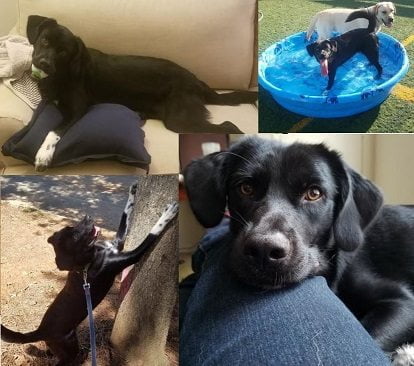 Hi, I'm Louie! I'm a handsome happy-go-lucky 11-month-old Black Lab mix. I weigh about 50 pounds. People say I look like I'm wearing white socks and a tuxedo! I play well with other dogs at the dog pub and park but I'd prefer to be the apple of your eye at home so I don't have to share your attention with anyone else. My ideal home would have a fenced in yard so I can run around and get all of my energy out! I love kids but I can forget how big I am and jump, so I shouldn't be around "little people" under the age of 8. My ideal person would love to be very active but still enjoy cuddles. I'll cuddle right up and sit in your lap if you let me- I'm very affectionate and LOVE giving kisses! I know the following commands: sit, stay, give paw, "go home" (to my kennel) "Off" and "Out". You can teach me what rooms/areas are off limits. I sleep in my kennel and nap there too. I don't get to have toys in my kennel at night or when you are away because I'll destroy and eat them. I know not to beg for human food, even though it can smell amazing! If I slip up or try to test you, you can point and say "Go" in a stern voice and I will stop.
Please have patience with me when we go on walks, I'm still learning not to pull! I'm a lab mix so squirrels will always grab my attention. I am super alert to anyone outside the home so I will always let you know when someone is outside. I take my role as guard dog seriously! I am housebroken, microchipped, neutered and up to date on my vaccinations. My families' decision to rehome me was super duper hard, and not one that was made lightly. Mom wanted to be my forever family. But I need more space to get out my energy and a home where I will be the center of attention. Could you be my forever family/person? If you are interested in meeting with me, please contact Kayla at kayla.ebert421@gmail.com (Note from owner: Louie's well being and happiness is so important to me. He deserves all the love in the world and more. I will want to visit your home and see him interact with you/your household).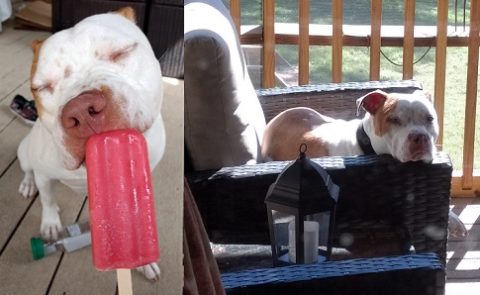 Hello, my name is Capone. I live in Statesville, NC. I'm a 1 1/2 year old American Staffordshire Terrier and I have a beautiful smile. I'm looking for my BFF and my FOREVER home. I enjoy going for car rides as long as you stop and let me go pee. I love long walks just as long as we have cold water for me to drink. I love playing in the yard and romping around with my balls, smiley face squeakers and all my other toys. I enjoy eating frozen watermelon bars (as you can see from my pictures). Loud noises hurt my ears and scare me, like your lawn equipment, etc. I'm use to a quiet and calm environment. However, I do have a lot of energy as I'm still a puppy. I love having you to myself so I need my parents to be patient and loving with me. We could continue my training together. I also need to be your only dog with a fenced in yard. I've never been around children either. There are times when I like to just lay around and do nothing or lay in bed with you, my pillow and watch a movie. So if I sound like I'm the perfect match for you, please contact my MOMMY at: harleygirl3f@gmail.com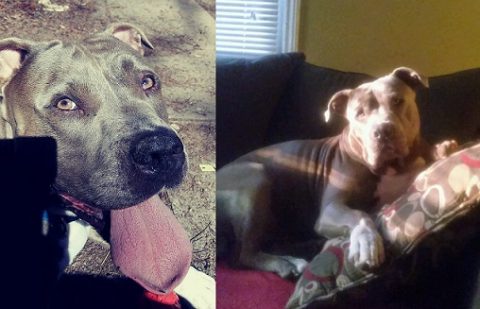 Hello! My name is Buster. I am an American Pit Bull Terrier that just turned 5 years old and I'm looking for a furever home with patient owners, no other animals or small children. I LOVE to play fetch with my ball and love being chased when I have toys in my mouth.  I am a little afraid of thunderstorms and fireworks but I am also so smart, engaged and a little goofy at times.  Although I have some anxiety I love to play and could be a great companion with the proper attention. I am up to date on my required vaccinations, heartworm and flea treatment. I am also neutered and have a microchip. Please contact my owners Scott and Lesley at lesdac1@yahoo.com or 704-953-7551 for more info.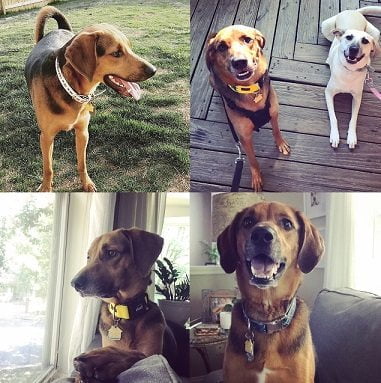 Hi, I'm Griffin (Griff for short)! I'm a 60 lb, 3.5 year old hound mix and I'm looking for an amazing new family! You see, I lived with my previous family for three years and I loved my mom, dad, fur sister, and human brother; but they didn't have quite enough time for me and asked my foster mom to help find me a new home where I could be the star! It's been a lot of fun hanging out with my foster mom and brother, but I can't wait to find my own forever family to share all my love with! I'm a fun, goofy boy and I love to run and play to get my energy out – I especially love playing fetch or going for a run with you! Once I'm tired, I'm a big snugglebug and really like having a soft place to lay and relax, whether that's your bed or couch, or my own comfy dog bed. I also LOVE other dogs and would do well in a home with a friend to play with (or even just nap with). I can hold my own with a rough player, or be calm with a more relaxed buddy. My foster mom takes me to dog daycare and dog parks sometimes, and I love that too! I'm an all-around good guy who gets along with pretty much anyone – including dogs and humans of all sizes. I am a hound boy, so I have a very pretty singing voice – which my foster mom says can get a little bit loud when I'm excited. But I'm just so happy to see you (or maybe a squirrel) that I can't help it! I'm house trained and crate trained (my foster mom lets me stay out for shorter amounts of time, but crates me if she's gone for more than 4 hours). I might not always want to go into my crate at first, but I calm down shortly after you leave and relax while you're gone. I walk pretty nicely on a leash when I have my harness on, and I know a few tricks like "sit" and "lay down." If you're looking to add a silly, lovable dog to your family, I might just be your guy! You can reach my foster mom Mackenzie at 828-310-8839 or mackenzielbright@gmail.com and she can help set up a meet and greet with me!

Hello! My name is Jaxson, Jax for short. I was adopted from Animal Control in December of 2015. I lived a great life with my dad who was in the military but about 7 months after I moved in, he got a new job that required too many hours and he gave me to my Aunt Nina. Aunt Nina treated me so well but my dog cousin Daisy did not like sharing with me. In January of 2017, I was adopted to a very nice family but my new sister was also not cool sharing her space and so now, I am back with my Aunt Nina. Aunt Nina loves me so much but has to keep me separated from my cousin for my own safety and she recently told me she is moving to this big place called Chicago and could not take me with her.
My aunt Nina had this really awesome woman named Joanne come work with me to address some issues I was having in my prior home. Ms. Joanne says I am a very smart boy who learns quickly using positive reinforcement. I took really well to the clicker training she showed me and am learning to not react to people or dogs while out for walks. Ms. Joanne did suggest since I can become mouthy or snippy when stressed out I would best flourish in a home where I was the only dog and without children. Do not worry! Overall, I am an excellent companion who loves to follow my humans around, go for long walks, play with my toys and sleep! I love my crate! It is my safe place. I will gladly go in and patiently wait for you to feed me or give me a treat. While Aunt Nina is working, I sleep peacefully in my crate. She always leaves my Kong or a yummy bully stick for me so I do not get bored. Did I mention I am house broken???!!!
I do best in stress free environments and would love a big fenced in yard to exercise daily. I enjoy going for runs with my human, going to the beach, laying on human feet and my Kong toys. I need a home with a dog savvy owner who will only use force-free, positive reinforcement training. I am a beefy boy weighing in at close to 70lbs, up to date on all vaccines, microchipped, neutered, and ready to be loved by you! Please contact my Aunt Nina at 940.337.2577 or Burcn002@yahoo.com.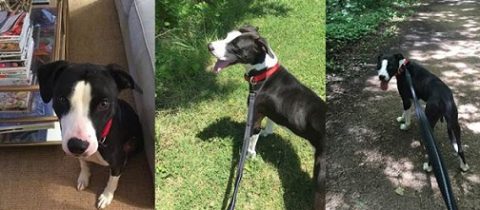 Hi my name is Petey, I am a 1 year old American Pit Bull Terrier Mix. I had a pretty rough start to my life–I was recently abandoned at a Eastway Park Elementary school in late May and had to be taken to Animal Control, which a nice group of neighbors decided to Foster/Adopt me out of Animal Control so I could be on the road to better health (I was very malnourished) and help me find my forever home. I am now doing very well, gaining weight, enjoying lots of playtime at my Foster Mom's house and starting to learn basic commands. I get along fairly well with other dogs, but I can be shy. I would be a great pet for an active person or family, I get along well with children ages 5 and up. I do have a bit of a fear of new males I come in contact with, but once I get to know you, I am just fine. I am a puppy so I do have energy and enjoy walks and outdoor playtime (I need to have a fenced yard please). Because I am still a puppy, I do like to chew sometimes, so just give me a bone to chew on when I need it and I enjoy all my toys too. I am very affectionate and eager to please, so if you have some training time to put in as well as take me on walks daily, I am the perfect pet for you! Petey comes with: his own bed and all his chew toys he loves. Medical updates: Petey has been fixed, he is up to date on all shots and he is currently on Heartguard and Advantix. To visit Petey or find out more information contact Foster Mom: Alicia LaLone at -704.756.5242 or -alicialalone@gmail.com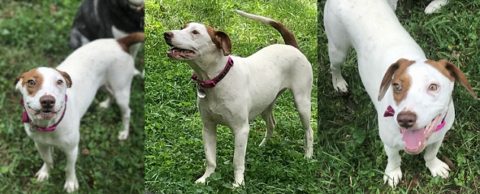 Hello my name is Sadie, and I was found on the side of the road chained up to a poll while it was pouring down rain until my foster dad saw me and grabbed me as fast as he could and took me to his home to give me a bath get me the shots I needed and had some kinda chip put inside me, and had me looked at very thoroughly. Which the doctor said I was about a year old ( I tried telling her but she couldn't understand me) and I was very healthy just needed love and food and a few more baths (not a big bath fan but fleas are so NASTY) I have been with my foster family for about a month now, I hate being alone and get really sad without another dog companion. I get along with cats (even though they hiss at me at first). I am extremely laid back. I love laying in my very roomy kennel and sleeping in it. I am not much of a fetch dog but who knows that may change. There are 3 other dogs where I am right now and we all get along just fine. I chase them around the yard (off leash). I still get nervous and kinda afraid of the rain and thunder (ok I lied, I get flash backs). I am still a puppy and still do some puppy things but I know when I need to go to the bathroom and let you know about it. So, I really want a forever home with a playmate I never want to be left chained to a poll and not wanted again. All in all I am FABULOUS and I know you will love me. So contact my foster family! Seth Headley 502-876-8427 or Sapphire -502-554-0998 or Chris 704-408-1205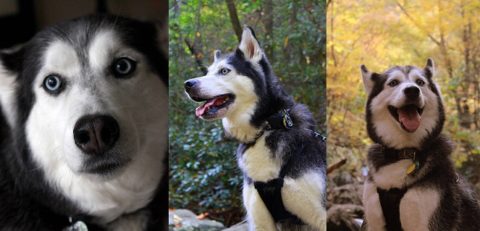 Hi, my name is Shasta! I am a sweet Siberian Husky who was previously adopted and stayed with my new family for 5 years! I am 8 years old now and still love playing! My family had a little human baby that stressed me out and made them realize I'm not very comfortable around kids. I love adult humans though and being around them. I love lying at their feet and snuggling in bed. I love running around the dog park or yard and taking sun baths. I know most basic commands and even a few tricks too!
She is spayed, up to date on rabies, chipped and house trained. I have some autoimmune issues that flare up when there is too much change in my life which is why my family wants me to stay with them until I find a new family. Changes in my life can be stressful, just like humans but once I get adjusted I will love you forever. I'm very quiet and hardly ever bark except at the post man or someone at the door. I love car rides and hiking and walking. I'm pretty good on a leash although I am very strong! I know my family is sad to see me go but wants the best for me with a new family that doesn't have small kids. If you're interested in me, please email Kelsy at keltickelsy11@gmail.com or call her at 314.598.6515.
Bailey just wants LOVE and lots of company and a place to RUN.  She's a four year old mix and weighs about forty-five pounds.  She is heartworm negative, healthy, and her shots are up to date.  She is very gentle and loving with people and has a soft mouth. She has been through quite a bit.  She's been passed around from home to home which can cause a lot of stress on any pet who is looking for stability. She is a loving girl who needs her forever home with a family who can give her stability and the training and attention she needs and wants.  She is currently with her former foster family and gets along well with three of their four dogs; however, their fourth dog (twice her size) and Bailey still do not get along.  She remembered her foster family when she was returned and was quite happy to see them.  At their home, she likes to roam free in the house and really loves to run outside in a large yard.  She also plays ball.  She is house trained and will sit politely next to the door to go out and knocks at the door to come back in.  She sleeps next to the bed or in the room next door (to keep her separated from the fourth dog).  She really doesn't like being crated.  Did we mention that she loves to run?  She also loves car rides and has been on a twenty-three hour road trip with two small dogs. Bailey's dream home would be with someone who is at home most of the time.  She needs room to run.  After running, she likes to take a nap or watch TV.  She likes treats.  She also likes oversize tennis balls for playing ball and for chewing.  Bailey is available directly from her current owners.  If you would like to meet Bailey, please contact them at 916-813-7173.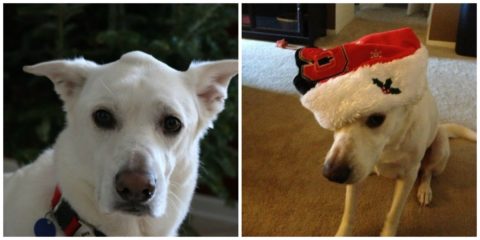 Hello my name is Finley! I am looking for a new family who has time for a high energy dog. My current family loves me SO BIG but, with two small kids at home, I get quite bored during the day.  They try hard to give me attention but some days I don't get the love I need.  Despite my age (I'll be 9 in July), I love walks, chasing the ball, and get very excited when you walk in the door. I'm very loyal and will warn you of anyone outside especially the UPS truck driver. I love meat and cheese but stick my nose up to almost all human food so I don't make a good vacuum cleaner. I can be territorial with my food bowl, so if you have other dogs or children I need space while I am eating, otherwise I am good with others. I listen very well, don't sleep on the furniture, enjoy lying at people's feet, and give the best slobbery kisses.  I come with a crate, a leash, my favorite tennis ball, a 50 pound bag of dog food, furminator brush, and all typical doggy supplies. I am house trained, neutered, current on vaccinations, and shed a lot (be careful when you wear black). I'm about 65 pounds and likely a lab/husky mix.  There is no adoption fee, if interested please contact Kasi at 704-284-7266

Hi I'm Charlie! I am a 4 month old, 20 pound, Boxer/American Staffordshire Terrier mix.  I'm an energetic, loving, curious puppy who loves to explore. I am extremely intelligent, and well socialized with people. My ideal environment would be one that would be willing to invest time into training me and challenging my intellect to learn. I respond quickly and positively to training, and I am very energetic. I love to play; my favorite activities include burrowing and jumping into bushes, as well as fetching sticks and toys. I also thoroughly enjoy long walks or jogs because I do well on the leash. I am also an amazing cuddle buddy, because I love to snuggle up, fall asleep on you and give kisses. Although I am not fully housebroken, I have already learned commands such as sitting, and waiting for my food. I would probably do best as the only dog in the house, I can be selective when meeting new doggies.  I am also spayed, microchipped, and up to date on all vaccines and wellness visits. If you are interested in adopting me, contact (704) 453-1634, (704) 728-7828, or tmeletiou@mi-connection.com.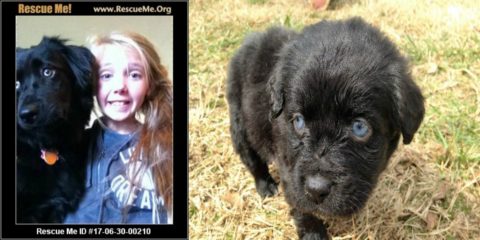 Hi, my name is Betty.  My mom was a Golden Retriever, who had me and my 8 siblings the day after she was found and rescued.  Some of my litter mates were blonde, some black, some short hair, some long hair, some blue eyed, some brown eyed. I was the smallest, but prettiest, with black with blue eyes and long thick coat of a Golden. I have the temperament of a Golden most of the time.  I was adopted at 5 weeks old to a nice family with two active kids.
The man of the house works 60 hours per week, I get so excited when he gets home.  The lady of the house is about to take a full-time job, so I am going to miss her hanging out during the day some. I love the kids, but as they grow up they are very active and our house is chaotic when we are all home. My family is gone a lot evening and weekends at ball games, and this is starting to stress me out.  I get a little snippy when the 12-year-old boy and his crazy friends are in the house running and yelling.  I just want to play with them, but they leave me out.
My family had a nice lady come in to help us.  The behaviorist recommended a calm environment for me, but we just can't seem to achieve this in OUR house.  They kids are active, have friends in and out, and we are gone all days and most evening/weekends.  The big people try, but the little ones just do not seem to understand. I would do well in a quiet home, where I can get exercise regularly. I love when I go to the dog sitter with lots of other dogs to play with.  But she had to move, so now I am going to have to go in a kennel for boarding.  I am house trained, can spend 8 hours or so in the house without distress.  I do not chew or make messes. I also like to be in the kennel in the garage.  At night, I usually sleep on the bedroom floor of the big people.    I am leashed trained and like walks.  I prefer to stay indoors, but love to run and play outside.
I am healthy, spayed, but little over weight.  I am loving and make a great foot warmer on the couch.  I am up to date on shots and passed the heartworm test. I am 3 ½ years old, am the size of a small lab, and weigh about 65 pounds (OK, I could lose a little weight.)  I get a little fussy if kids go near my food when I am eating.  I sometimes counter surf or steal the kids' toys and snacks left out (they really should pick up their stuff, I just can't help myself). I like to have my long hair brushed, but I really do not shed too much. It breaks my family's heart, but know I would do better in a home without the daily chaos of kids.  If you want to talk to my family about taking me home to YOUR house please contact Kristin Gerrety at 330-283-2181 or ckptgerrety@msn.com

Hi!  I'm Lucy.  I am a 3yr old Border Collie mix in search of a new forever home.  I weigh around 50 lbs and am really sweet and loving towards kids and other animals.  My best friend is a cat named Sonic.  I am spayed and up to date on all of my shots.  I am full of energy and love being around people.  Unfortunately, my current family is highly allergic to me and that has made me an outdoor dog for the last 3 years.  I have since developed an allergy to fleas.  My mom has me on prescription medication to help with that and she sprays my yard/deck constantly, but it doesn't help. The fleas have bitten me to the point where I am pulling out my fur.  My ideal home would be where I sleep/live indoors.  Please call 704-906-8499 or email alexbellamom@hotmail.com if you are interested in meeting me!