iCare Rehoming Board: Puppies & Dogs

Hello, my name is Capone. I live in Statesville, NC. I'm a 1 1/2 year old American Staffordshire Terrier and I have a beautiful smile. I'm looking for my BFF and my FOREVER home. I enjoy going for car rides as long as you stop and let me go pee. I love long walks just as long as we have cold water for me to drink. I love playing in the yard and romping around with my balls, smiley face squeakers and all my other toys. I enjoy eating frozen watermelon bars (as you can see from my pictures). Loud noises hurt my ears and scare me, like your lawn equipment, etc. I'm use to a quiet and calm environment. However, I do have a lot of energy as I'm still a puppy. I love having you to myself so I need my parents to be patient and loving with me. We could continue my training together. I also need to be your only dog with a fenced in yard. I've never been around children either. There are times when I like to just lay around and do nothing or lay in bed with you, my pillow and watch a movie. So if I sound like I'm the perfect match for you, please contact my MOMMY at: harleygirl3f@gmail.com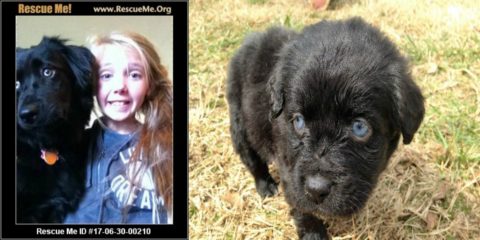 Hi, my name is Betty.  My mom was a Golden Retriever, who had me and my 8 siblings the day after she was found and rescued.  Some of my litter mates were blonde, some black, some short hair, some long hair, some blue eyed, some brown eyed. I was the smallest, but prettiest, with black with blue eyes and long thick coat of a Golden. I have the temperament of a Golden most of the time.  I was adopted at 5 weeks old to a nice family with two active kids.
The man of the house works 60 hours per week, I get so excited when he gets home.  The lady of the house is about to take a full-time job, so I am going to miss her hanging out during the day some. I love the kids, but as they grow up they are very active and our house is chaotic when we are all home. My family is gone a lot evening and weekends at ball games, and this is starting to stress me out.  I get a little snippy when the 12-year-old boy and his crazy friends are in the house running and yelling.  I just want to play with them, but they leave me out.
My family had a nice lady come in to help us.  The behaviorist recommended a calm environment for me, but we just can't seem to achieve this in OUR house.  They kids are active, have friends in and out, and we are gone all days and most evening/weekends.  The big people try, but the little ones just do not seem to understand. I would do well in a quiet home, where I can get exercise regularly. I love when I go to the dog sitter with lots of other dogs to play with.  But she had to move, so now I am going to have to go in a kennel for boarding.  I am house trained, can spend 8 hours or so in the house without distress.  I do not chew or make messes. I also like to be in the kennel in the garage.  At night, I usually sleep on the bedroom floor of the big people.    I am leashed trained and like walks.  I prefer to stay indoors, but love to run and play outside.
I am healthy, spayed, but little over weight.  I am loving and make a great foot warmer on the couch.  I am up to date on shots and passed the heartworm test. I am 3 ½ years old, am the size of a small lab, and weigh about 65 pounds (OK, I could lose a little weight.)  I get a little fussy if kids go near my food when I am eating.  I sometimes counter surf or steal the kids' toys and snacks left out (they really should pick up their stuff, I just can't help myself). I like to have my long hair brushed, but I really do not shed too much. It breaks my family's heart, but know I would do better in a home without the daily chaos of kids.  If you want to talk to my family about taking me home to YOUR house please contact Kristin Gerrety at 330-283-2181 or ckptgerrety@msn.com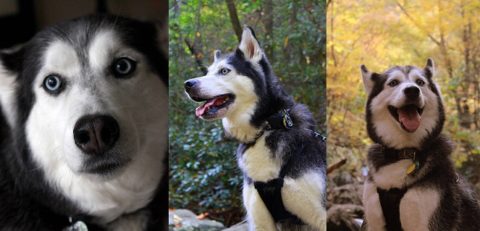 Hi, my name is Shasta! I am a sweet Siberian Husky who was previously adopted and stayed with my new family for 5 years! I am 8 years old now and still love playing! My family had a little human baby that stressed me out and made them realize I'm not very comfortable around kids. I love adult humans though and being around them. I love lying at their feet and snuggling in bed. I love running around the dog park or yard and taking sun baths. I know most basic commands and even a few tricks too!
She is spayed, up to date on rabies, chipped and house trained. I have some autoimmune issues that flare up when there is too much change in my life which is why my family wants me to stay with them until I find a new family. Changes in my life can be stressful, just like humans but once I get adjusted I will love you forever. I'm very quiet and hardly ever bark except at the post man or someone at the door. I love car rides and hiking and walking. I'm pretty good on a leash although I am very strong! I know my family is sad to see me go but wants the best for me with a new family that doesn't have small kids. If you're interested in me, please email Kelsy at keltickelsy11@gmail.com or call her at 314.598.6515.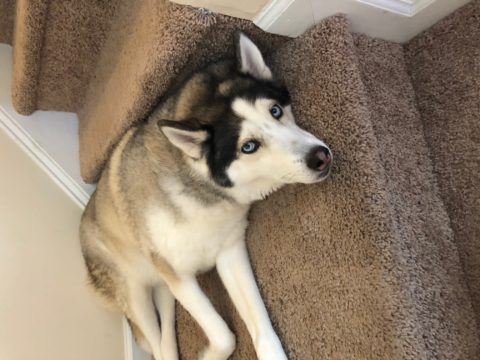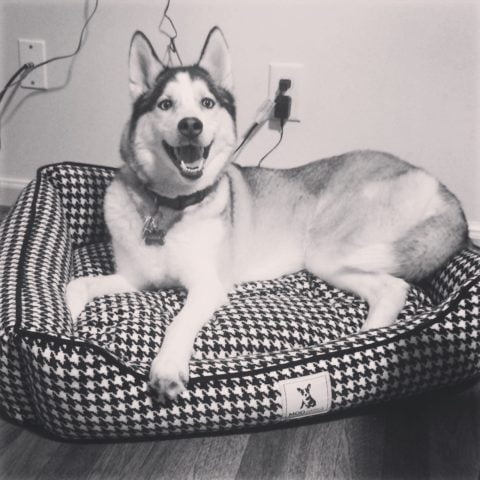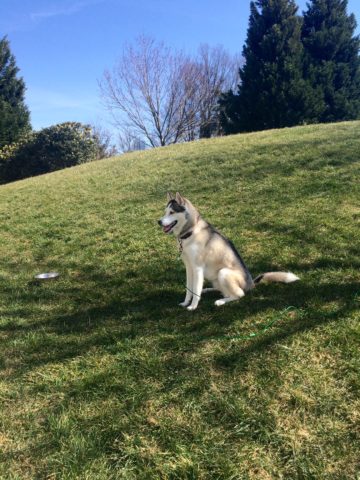 Hi my name is Nahla. I am a 5 1/2 year old female Siberian Husky and I am looking for my new forever home. I have been with my current family since I was 8 weeks old, but my parents recently had a little human, who I love, but who I compete with for attention. Having a little human is tough, and as she gets older and more active, the adjustment gets harder for me.  I am very energetic and love to be around (adult) people. I am also a great cuddler and I hardly ever bark. I know basic commands, and even a few tricks. I love to go on walks, but I am pretty strong so I could benefit from a bit of training in that area.  I also enjoy going to the dog park and letting my hair blow in the wind while cruising around town. I am a little shy at first, but once I get to know you, I will be your best buddy. I hate to leave my current family, but I know a more active family with no children would be a better fit for me. I am up to date on all of my shots and have been spayed. If you are interested in getting to know me, please reach out to my mommy. She really wants to make sure I find the perfect home. Shana Boney sds0813@yahoo.com, 336-558-0309.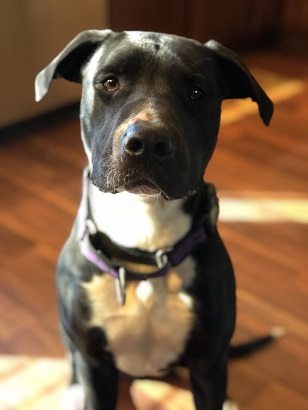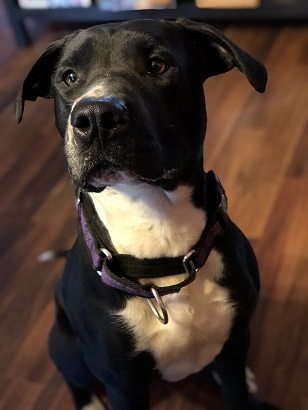 My name is Koda and I'm just over a year old so in doggy years I am a teenager! I have lots of energy, sometimes I forget my manners, I prefer to be around others and I LOVE eating. I was adopted from the Animal Shelter just a few months ago but my new mom had to move and couldn't take me so I'm now living with another family until I find a forever home. The family I'm staying with has three other large dogs. I like to play with the other dogs at the house but I do play rough so only the other high energy dogs like to play with me. The older one is grouchy and doesn't like us teenagers, but I'm learning to understand when she wants me to leave her alone too. I haven't been around any kids so I don't know if I'd like them or not. I did live with a cat for a while but we just kept to ourselves.
Why would you want me to come live with you? Well, if you need a walking or jogging partner I'm your guy. I'm learning how to wear a Gentle Lead so I walk without pulling. I love trail running in the Greenway. I also do really well in the car so I can take trips with you (to go hiking maybe?). If you just need someone to hang out with, I can do that too. I prefer to be around people and will gladly just hang out with you. I have worked really hard on my good manners and I practice every day. And if you give me treats and remind me of your rules I'll be happy to keep working on them with you. And best of all I don't really shed!
What do I need from you? I am a big dog (about 50 lbs) so I need some space for a large bed. I will need regular exercise and consistent discipline. I'm young but if you teach me your rules, I'll follow them but I might get strong headed and test you to see if you really mean it. So you'll need to be patient with me. I don't like to be home alone very much so I'll need a safe place to stay when you're gone. I also eat my food very quickly so I like to have interactive food toys (but I have some of those I can bring with me).
If you want to meet me contact Angela Ward (angelgirl2272@yahoo.com or 480-234-3332)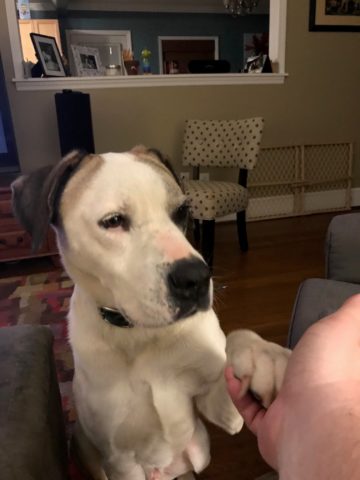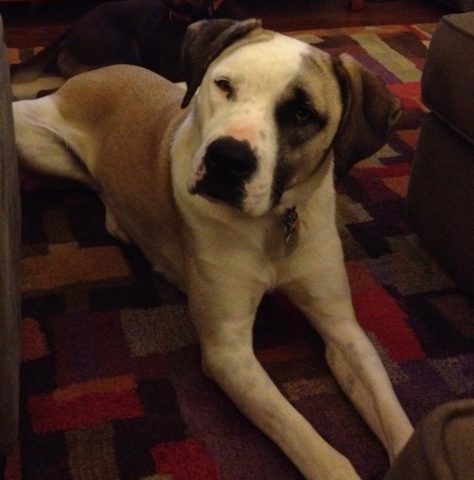 My name is Chance and I'm a Boxer mix in need of a new home. My parents say I am loyal and friendly. I would be a great fit for someone without small children.  I love to run in the back yard and play. I am neutered and house trained. I stay off the furniture and love to keep a lookout for my house. I enjoy sitting by the front storm door and taking in the scenery. Mom says I a great instinct about people as well. I am protective, but friendly to anyone you are willing to let in your home. I get along with other dogs, but mainly only female dogs and smaller dogs. Please let me know if you have any interest or know someone who would be interested in adopting me.  My parents can be reached at JT72five@hotmail.com.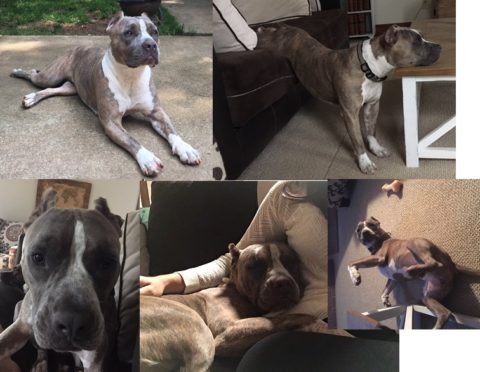 Hello, my name is Micha and I am a 3 year old blue nose bully with a brindle coat and I have the most loveable and goofy personality. My birthday is January 26, 2015. My mom has to move and due to financial struggles and time constraints, she has made the difficult decision to find me and my sister a new home where we get the love and attention we so desire and deserve. My nicknames are Baby Rhino, Gorda, Baby Girl and Spock, as I had a toe amputated due to an infection, so now I have four toes on one foot. I get called Baby Rhino because when I'm looking at you, I look like a baby rhinoceros.
I've been with my mom and sister, Moka, who is also trying to find a new home with me, since I was 3 months old. My ears had already been cut off and I had the most beautiful blue eyes (that are now a honey brown color). If you can believe you can see a dog's soul through their eyes, My mom says I have a gentle soul with so much love to give, but a playful side and just all around goofiness. I am loyal and a protector and will protect anyone I love.
I love to lay next to you, or on top of you if you let me, and let you just rub on my belly or ears, until I fall asleep. I have an energetic side and I love love love to be outside. It's the first thing i want to do in the morning and i will stay out until far past dark just to listen and watch my surroundings. I'm a hunter and will spend hours searching for something I think I hear or see. I'm very alert and do get anxious when I hear other dogs. I don't do well around other dogs, simply because I was never exposed to them as I grew up. I also tend to think small animals are toys, so it would be best if my sister and I were the only animals in the house.
When I was rescued in Mexico City, there were no dog parks or daycares and all I had was my sister. I don't know how to interact with other dogs, or small animals, except to protect myself.  I was traumatized when I first came to the US and when taken to my first daycare, I was separated from my sister and thrown into a busy daycare with 30+ other dogs- which terrified me. My mom was furious.
I'm absolutely amazing with children and love being around people. My favorite people are anyone who is willing to love on me. I love men and I am very much wanting to please my Alpha's (male or female) and will be submissive if I know I've done wrong. I will go belly up if you look at me or say something to me in a tone that I know means I've done something wrong. I am very much a pleaser.
I love to go on walks and I am not the dog that will stop and smell everything- I will power on until you make me stop. I love rough housing with my sister, Moka, and chewing on any toy you give me. I've never chewed any furniture or shoes- only dog toys and balls.
I had my ACL repaired December 1, 2017 and am currently in recovery, but almost completely healed! I am so tolerant of everything when it comes to cleaning and caring for myself- My mom has had to put 4 pills down her throat every day for almost a year (because of my knee) and I never fight or get aggressive due to discomfort. I don't mind baths and I'll let you clean my ears and teeth whenever you'd like. I may look ferocious, but you'll never meet a sweeter dog when it comes to people.
I am my mama's baby, and she loves me and my sister more than words can even describe. My sister and I need a home where there are multiple people, both adults and children, who can love us and give is the time and attention we need. You couldn't ask for a better dog.
If you have any additional questions, please reach out to Christin at christinmarie0504@gmail.com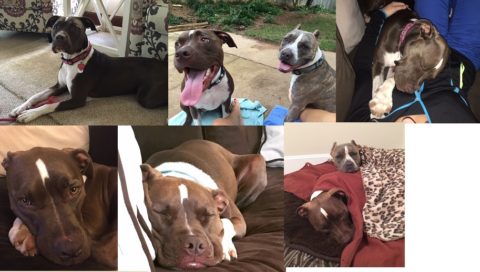 Hello! My name is Moka and I am my mom's oldest baby. My birthday is April 1, 2014. I've been with my mom for over 3 years. I was rescued from the streets of Mexico when My mom lived there- I was found in an area of Mexico City that was known for dog fighting, and i'd been hit by a car or something as i had a weird gate when walking. I have a younger sister, Micha, who is also trying to find a new home with me, who I've been with for 3 years.
I am a little stubborn, but I am the most cuddly, loving and affection-seeking dog you'll ever meet. I love to be close to you, whether it's by your side on the couch or at your feet as you scratch my chest and neck. I absolutely LOVE when you throw the rope toy or a tennis ball with me for hours, so you and I can then play 'Catch Me if you can' or tug of war with me. I love to play with my sister until we're both exhausted in my big back yard. I love to go on walks and I have a love/hate relationship with squirrels and big birds. I give off this high pitched bark when I've seen a squirrel- I can't help it! I'm a hunter by nature and if I've found something- I'll be sure to let you know it.
I love anyone who will give me attention, but I have a particular fondness for men and children. If there's a man in the house (when mom isn't around), good luck getting me to stop licking his face and loving on him 😊 I'm very smart and have little interest in rain or cold weather. I don't do very well with other dogs, simply for the fact that while I was young, I was not able to go with my mom and sister to dog parks or daycares because they didn't exist in Mexico. So I never had exposure to how to play with anyone, except for my sister, who came around 4 months after I'd been rescued. I'm very anxious around other dogs but my mom is hopeful that with training, and being away from her sister (who she is protective of), I can learn to socialize with bigger dogs- I  just don't know how.
When my mom moved back to the states I got to come with my sister, Micha, because my mom couldn't leave us. My mom says that We are her everything, and she's done her best to give us an amazing life so far. But being on her own now and it is so much more expensive to have dogs in the US, She simply cannot afford us nor does she have the time we deserve to be given. My mom is so busy and is gone far too much and I, along with my sister, need a home filled with people who will play with me and cuddle with me, any time of day and be home more often than not.
My sister and I would make an amazing addition to your family if you give us the chance!
If you need any further information, please reach out to Christin at christinmarie0504@gmail.com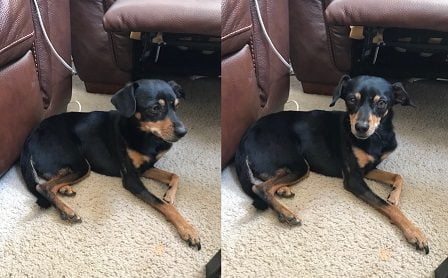 Hello! My name is Stella!  I'm an old girl who's young at heart.  I love to greet you at the door after your long day at work by wagging my whole body and jumping up on your legs.  Don't worry though, I only weigh 14 lbs. so I can't really hurt you.  I love snuggling up on the sofa with you while you watch TV and when it's time for bed, I love to go into my kennel where I have lots of blankets to burrow into.
My current owners love me, having adopted me from a shelter almost 8 year ago, but they now have a little one in their home. I get nervous around little people and sometimes snap at them.  I don't intend to hurt them, they just frighten me and make me nervous.
I'm really attached to the lady of the house and love to follow her everywhere she goes. I can tell she is sad to let me go but she knows there is a better home for me where I can be the center of attention.
I am a small girl but have a big attitude when it comes to other dogs and cats.  I try to boss them around and most of the time they let me.
I have a front leg that does not work because one time I ran away and got struck by a car.  A Good Samaritan took me for emergency treatment but unfortunately I permanently lost use of my left front leg.  I get along great without the use of it but stairs are a little hard to maneuver.
I am mostly house-broken but sometimes when I have to spend long days inside, I have accidents.  My owners really try to make sure I get outside enough but between their full-time jobs and family obligations, it's sometimes hard. I know they want a good, loving home for me where I can be the Star. If you are interested in meeting me or learning more about me, please reach out to Michelle at shellyj1023@gmail.com