iCare Rehoming Board: Kittens & Cats
Hi!  I'm Spectre and I'm a very sweet cat, about 7 years old and despite growing up, I have never lost my cute little kitten meow.  I might be shy at first, but I love to be pet, getting cozy under the covers, and finding a nice sunny spot near the window for a cat nap.  I am very much a lady and am always impeccably postured with my tail wrapped neatly around me.  I don't go outside but find time for adventures and play at night.  I have lived with a dog most of my life and am always running away from her, so I would prefer a home where a dog isn't constantly bothering me.  If you are interested in adopting me, please contact Paul at pipspadaro@gmail.com or at 704-808-0409.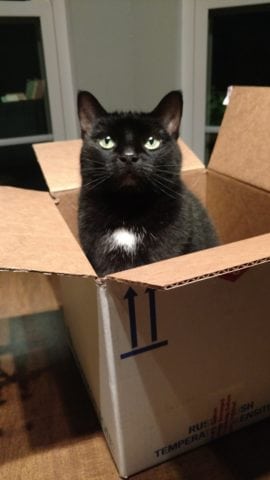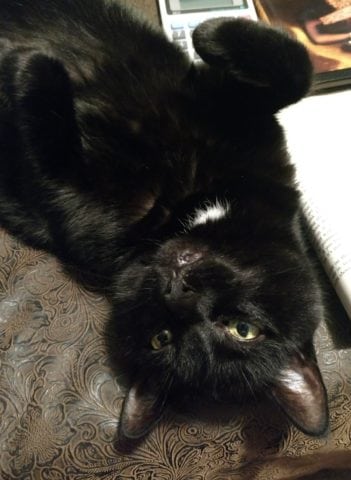 Hello World! My name is Quinn and I am a 9-year-old, black and white, domestic short-hair with beautiful green eyes! I am incredibly independent and self-sufficient. I love, love, love sleep – I be caught snoozing in a linen closet if left open or in a ray of shine-shine peeking through the curtains. If I'm not sleeping the day away, I am on the hunt: Cackling at birds through the window (I'm an indoor cat but I remain hopeful) or relishing in the catnip on my scratch pad. I grew up around dogs but now that I am older, I just can't deal with them. In my current home, I am completely stressed out and just want to have my own space. The stress has been making me prone to UTI's but with my new diet, I am hoping things clear up soon! Being in a house with no other dogs would certainly help. I am a quirky cat who just wants a little more personal space. Can I be your one and only? If you would like to meet me please reach out to nminks24@gmail.com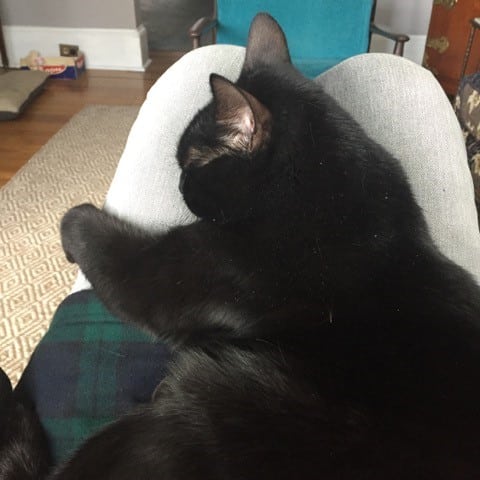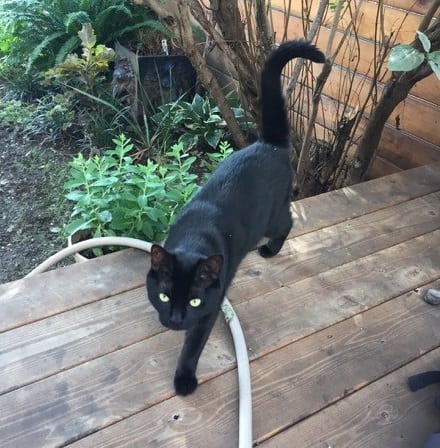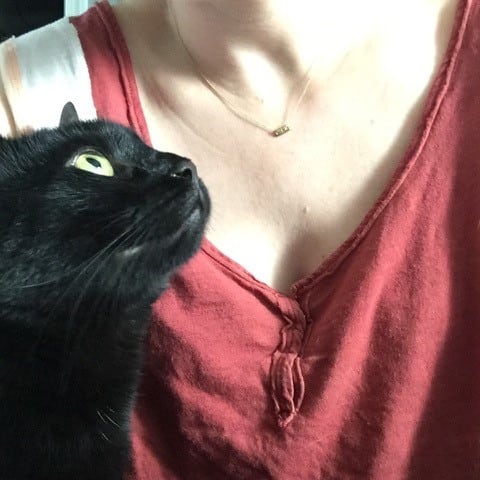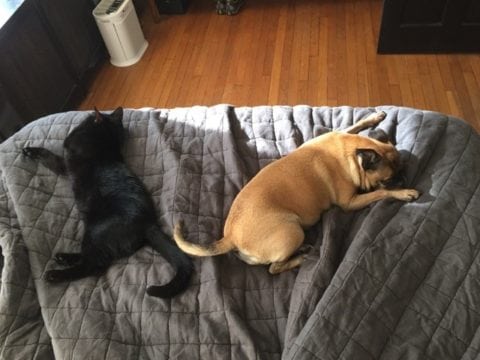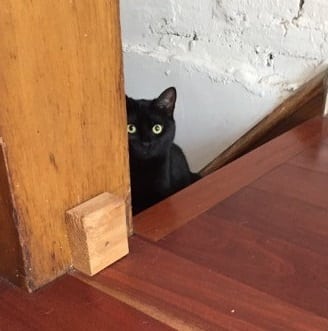 Hello, my name is Panthora, I'm a silky little black cat from Bed Stuy, NY. My parents scooped me off of the street from under an abandoned car, and because of the time I lived on the street I'm a little bit of a scaredy cat. If you give me some time to get to know you, I'm the sweetest little cuddle bug. I'm a little bit smaller b/c of my time on the street, but I'm super silky and soft. I have a super cute tiny meow, which you will almost never hear. I'm will keep you warm and safe while you sleep, and because I'm so quiet, I won't wake you up. I get along really well with my pug puppy sister, but I've had a really hard time because of my cat brother. He bullies me and won't let me move freely around the house. I think I could get along with other cats, b/c I love my pup sister, but I'm not sure. I have a one year old human brother who scares me, although I try to sit near him. Maybe I'd be ok living with kids, if they understood that I can be a scaredy cat. I wish I could stay with my parents, but my other cat sibling loves my human brother and I'm scared of him. I would love to live with a cat person that is patient with a nervous kitty, and ready for all the cuddles once I get to know them. My big cat brother is really being a bully and I am hoping to find a safe home soon, where I can use the bathroom and eat in peace. If you are interested in meeting with me or learning more about me, please email Cathryn at cat.h.judice@gmail.com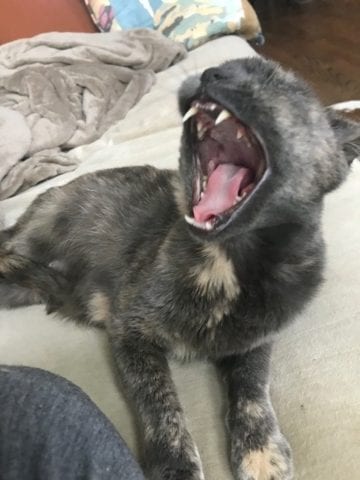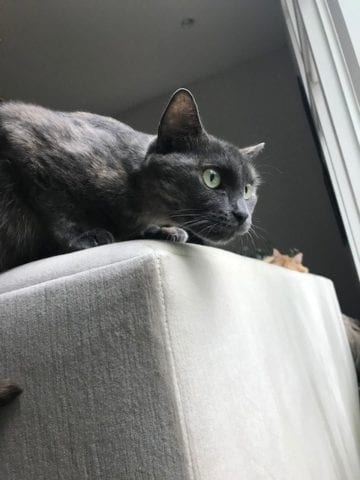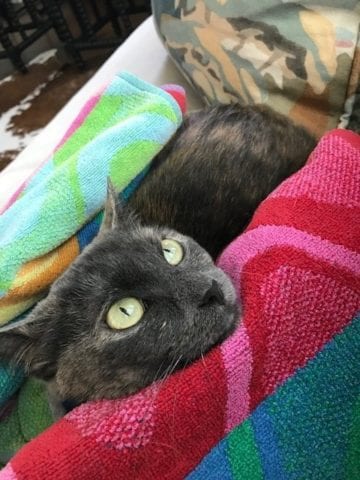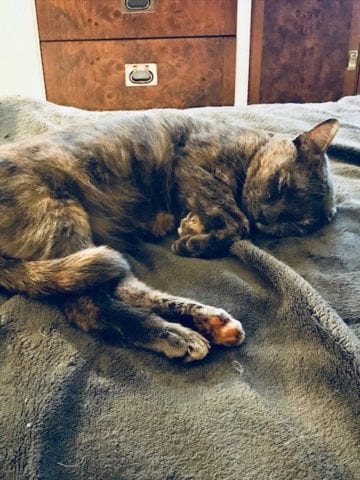 Lady Gaga is a beautiful dilute Tortie. She is a very sweet kitty, even gives kisses on the lips.  She is very gentle, and a little timid.  She loves a good chin rub, and oddly enough to rub against your feet:) She enjoys the other cats at her foster home, even though it took a while for her to start socializing with them. If you are interested in meeting with her or learning more about her, please email Erin at esalamone@hotmail.com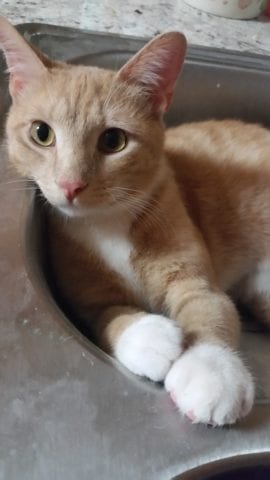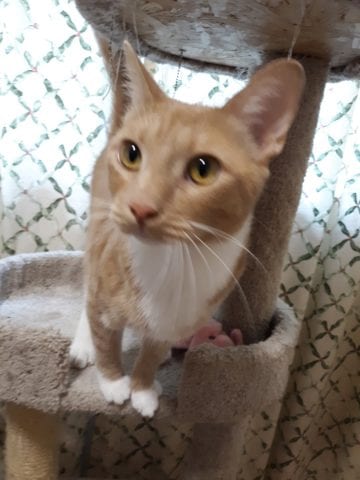 Meet BUTTERSCOTCH. Male one year buff color tabby. Butterscotch said I love my kitty tower and will run and jump up on it and go to the very top and I have a lot of energy and love to play. I love my toys and and my laser pointer and my wand toys and I will play with you and love on you but I want to have your love and attention all for just me I don't want to share you with another kitty. I also had kids play with me inappropriately and they were too rough with me so I prefer adults. My foster mom said that I can bring my kitty Tower with me because I love it so much. I have already gone to the vet and been neutered and got my shots and have been felv / FIV tested negative and been dewormed and have my flea prevention and I am ready to go home with you. To meet me or adopt me please call or text my foster mom Linda at 704-597-8535.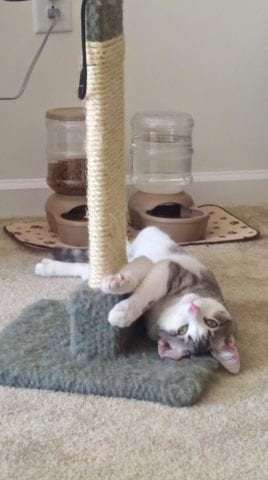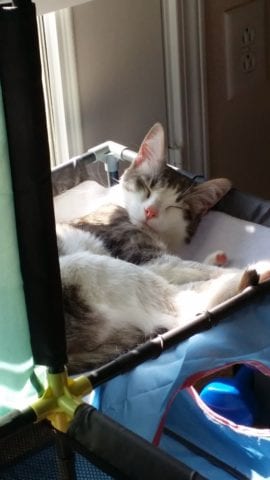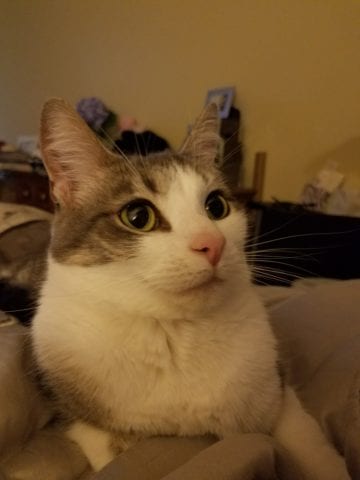 I am a medium haired domestic cat and my name is Bentley. I need to find a new home before this new human enters our household. I'd work best with older children or adults looking for companionship. Don't worry because I'm neutered and have all my shots. I am very loving and love attention. Don't bother getting me toys because I love playing with bread ties and wrinkled up candy wrappers. I spend hours chasing after balls and am a great sleeping companion on lazy days. If interested please let my owners know soon. I look forward to meeting you and hopefully becoming a new part of your family. Contact my mom at rudie3406@gmail.com