iCare Rehoming Board: Puppies & Dogs
Jax is a 2 year old Dachshund, Beagle, Chihuahua mix that loves attention, to play and to snuggle with his family.  He also loves to play with other dogs in the family.  He has a big appetite and can't wait for breakfast and dinner and is always happy to enjoy a treat or a new toy.  Jax is a sweet dog that is very smart and interactive with everyone in our family but he also can be very nervous and have a hard time adjusting to change, especially when visitor come to the house.  We have a young family with lots of visitors and, unfortunately, Jax gets very nervous when new people enter or leave the house.  He also struggles to control his nerves when on walks and he sees other dogs.  Because we love Jax so much, we have tried to help him relieve him of his anxiety by working with trainers, behaviorists and veterinarians.  Despite our best efforts, our veterinarian's advice is that Jax would be better suited for a quitter home without children.  We think that Jax would be a great addition to a house that is quite, safe and has a stable routine. If you are interested in meeting with him or learning more about him, please reach out to Shannon at shannonpons@hotmail.com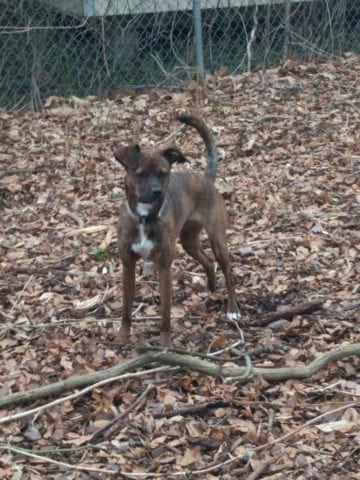 Hello I'm Chani, an adorable, 1 year-old, 25-pound brindle girl, who is looking for a family or single human to adopt. I have a strong preference for humans who are playful and active — and love to take my human out for exercise regularly!
I really need my person to be sufficiently fast so they can catch me before I bolt across the street after a squirrel! Are you that fast? No, then a fenced-in yard is best for me. My favorite activities are running back and forth after sticks, playing with toys, and just simply being outside!
After burning off my human's energy, I enjoy cuddling on the couch and watching TV. I also love guests, and will entertain them with boisterous affection and invitations to play.
Lastly, I am health-conscious, and am up-to-date on all shots and have been spayed. I have my own thunder shirt, leash, walking harness, and indoor ball. However if you decide to take me home, you are expected to maintain an adequate supply of sticks! If you're interested in meeting in meeting with me, contact Cary Head at 704-877-4323.
Hello, my name is Nala. I'm a labrador australian cattle dog mix, weighing 55 pounds, and I just
turned 3 years old on August 9th. I'm looking for a great home with a nice backyard to play fetch
in all day long! I love to run around and play with other dogs, and I love children too. Sometimes
I can get a little over excited but after a minute I calm down, it's nothing to stress about. Other
toys I like are tiny plush, squeaky toys and my big treat-filled bone. I have a lot of energy, but I
do like some cuddles especially because I love to give a ton of kisses. I want a home that is
peaceful and a family that can give me lots of love, along with head scratches and belly rubs. I
get scared easily from loud noises, they make me pace around the room, and I'm anxious at
times, so I really needs parents that have a lot of patience with me. Oh, and I know some tricks
too! I can give high-five, lay down, sit, and give paw (I know that's quite impressive).I can swim
very well, so the beach is one of my favorite places to go especially when you bring a ball to
throw in the ocean for me to catch. I can't forget to mention this, I'm also house trained and am
awesome to take a road trip with (I really just lay back and relax).
Anyways, if you want a loving, energetic, and friendly new furry baby then I'm what you're
looking for! To get more information email my mom Katie at katiefontana96@gmail.com .