Our Medical Staff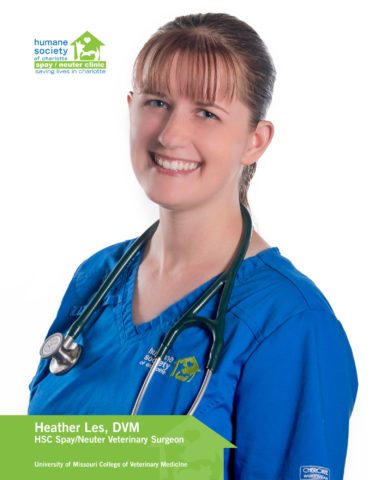 Dr. Heather Les
HSC Spay/Neuter Veterinary Surgeon
Dr. Les is a transplant from the suburbs of Chicago, IL. She attended Illinois State University undergraduate school with a passion for biology but was unsure about her future path. She considered a job in research or teaching, however, it was while working for 3 years on the medical staff of an animal shelter that she fell in love with veterinary medicine and decided to pursue a veterinary degree at the University of Missouri (2011-2014). After graduation, she worked in private practice in Illinois before switching to a shelter job in Florida which more suited her passion for non-profit veterinary work. While in the sheltering world, the large number of homeless animals drove Dr. Les to become a spay/neuter veterinarian, as she feels this has one of the most direct impacts on lowering the number of unwanted pets in a population. She lives with her fiancé Kevin, lab-mix Griffey, and 2 cats Payton and Wrigley.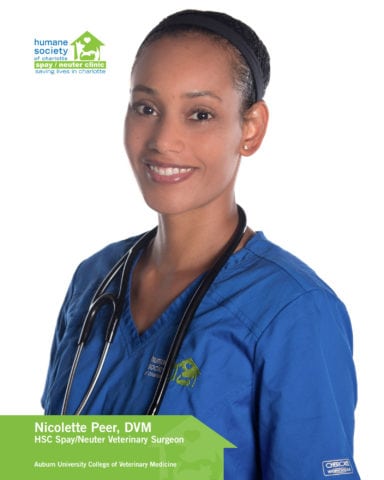 Dr. Nicolette Peer
HSC Spay/Neuter Veterinary Surgeon
Dr. Nicolette Peer began her interest in veterinary medicine at a very young age. She grew up in Long Island, NY where her house was always full of animals. She attended Duke University where she majored in Biology. After graduating, she worked as a veterinary assistant in small animal emergency practices prior to applying to veterinary school. Dr. Peer attended Auburn University College of Veterinary Medicine and graduated in 2010. After graduation, she completed a small animal rotating internship at The Ohio State University.
Dr. Peer moved to Charlotte in 2011 and worked in small animal private practice prior to joining the team at the Humane Society of Charlotte. When she is not at work, she enjoys spending time with her family, friends, and her cat Syl. She loves to read fiction, work out, be outdoors, and ballroom dance with her husband.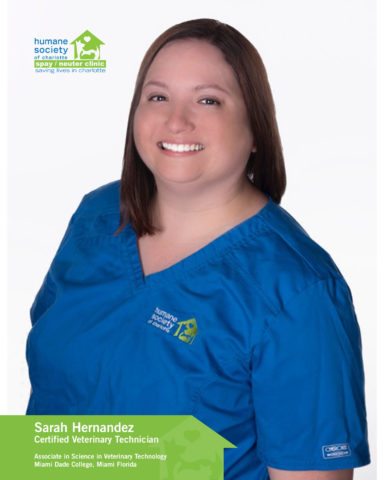 Sarah Hernandez
HSC Spay/Neuter Registered Veterinary Technician
Sarah grew up in Miami, FL where she always had a love for animals.  She enlisted in the United States Air Force Reserves in 2002 and served as a Medical Technician for 11 years. Sarah then returned to school in 2006, where she knew that small animal medicine was where her heart was. She attended Miami Dade College and graduated in 2008 with an Associates in Veterinary Technology becoming a Certified Medical Technician.
Soon after graduating, she accepted a position in the preventative clinic at the Humane Society of Greater Miami. This was her first experience in non-profit veterinary work, and she says she has been hooked ever since. Sarah moved to the Charlotte area in February 2017 with her fiancé, Jairo, Lab mix Hannah and Chihuahua, Kal-El.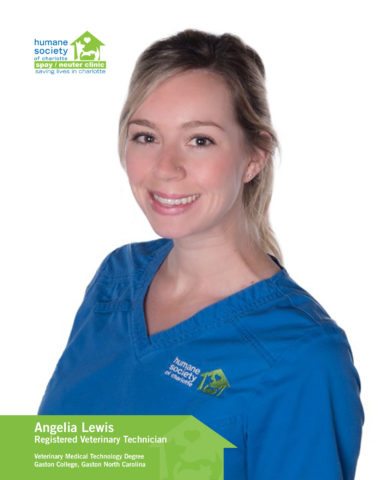 Angelia Lewis
HSC Spay/Neuter Registered Veterinary Technician
Angelia began her career as a registered veterinary technician in 2013. She graduated from the Gaston College veterinary technician program and completed an externship at a private veterinary hospital. Being an animal lover, she has always had a huge passion for being an advocate for the animals. She has been with the Humane Society Spay and Neuter Clinic since becoming a Registered Veterinary Technician.  She says it has been an amazing experience thus far.
She has adopted two fur babies, Lana and Silous, and will likely adopt more. Her hobbies include yoga, hiking, snowboarding, and rock climbing.