iCare Rehoming Board: Kittens & Cats
Hi!  I'm Spectre and I'm a very sweet cat, about 7 years old and despite growing up, I have never lost my cute little kitten meow.  I might be shy at first, but I love to be pet, getting cozy under the covers, and finding a nice sunny spot near the window for a cat nap.  I am very much a lady and am always impeccably postured with my tail wrapped neatly around me.  I don't go outside but find time for adventures and play at night.  I have lived with a dog most of my life and am always running away from her, so I would prefer a home where a dog isn't constantly bothering me.  If you are interested in adopting me, please contact Paul at pipspadaro@gmail.com or at 704-808-0409.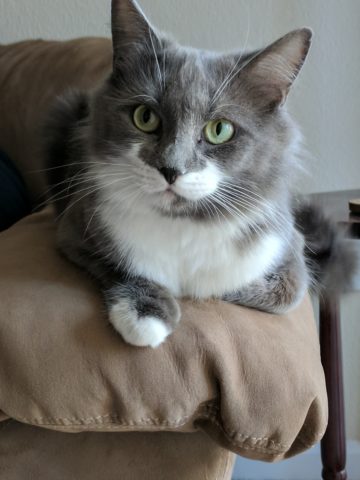 My name is Tali, and the animal shelter got it right when they said I was a personal assistant. When it comes to cooking or working on the computer I'm there to help. Door greeter? I'm there too. Keeping tabs on everyone outside of the window? That's my specialty. What the shelter did not know was that I like to work alone. I do not get along with my owner's older cat and I'm not too fond of their rabbit either. But if you are a laid back household with an empty nest that needs to be filled I'm your girl. I'll be your (usually) quiet companion who needs only occasional petting and a warm place to sleep at night. And toys. I love toys and empty boxes. I have been fixed and have had all of my shots and am in perfect health. At just 2 years old, I've got plenty of years of assisting left. If you are interested in meeting with me or learning information, please reach out to Kate at truut2@gmail.com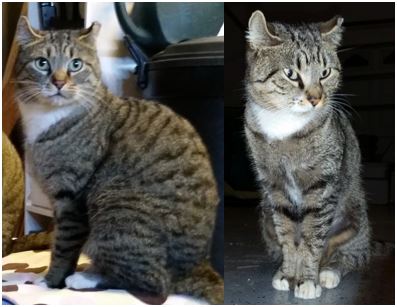 Hello! I'm Mama. I'm a beautiful lady with sweet "American Curl" ears. I just had a small litter sometime around May 2017 and have since been rescued and am in search of a forever home. I am SUPER cuddly and loving and I love being petted, lounging on my human's lap, or in their arms. I really LOVE hugs! I roamed the neighborhood for at least a couple of years before my rescue but am now learning the joys of being an indoor only cat. But, I may always long a little bit for the outdoors, so my new owners should be experienced and able to keep me indoors. I have struggled to get along with other cats but have gotten much better recently. Still, my ideal forever home is one where I can be the sole kitty with one or more humans who also love cuddles! I weigh about 10 pounds and can be reached by contacting Andy or Gina Head at a.head@earthlink.net or 704-798-5540.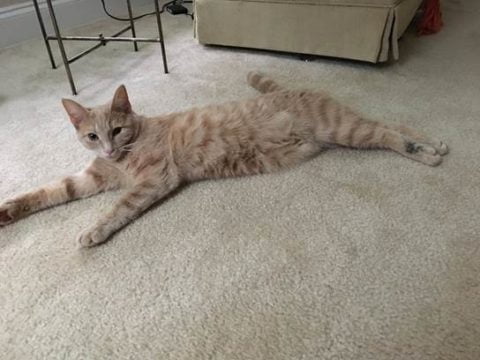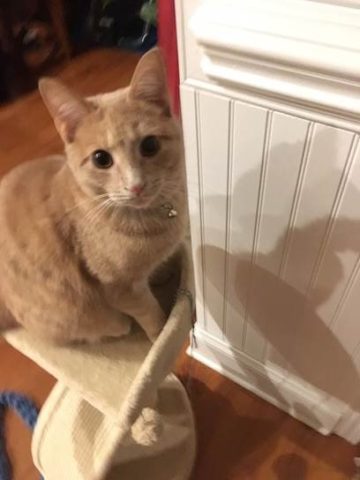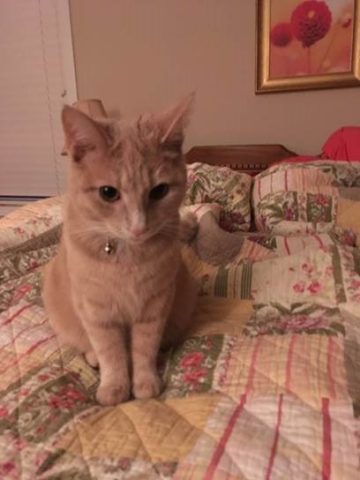 Hello, I'm Wiley! I'm a playful and communicative one-year old male. I love long naps during the day, and playing with my string in the morning and evening. I play outside everyday and would enjoy a home where I can roam inside and outside. If you're interested in learning more about me or becoming my new family, contact Thomas Maier at thomasbmaier@gmail.com.
Hi, my name is Polly the polydactal kitty!! This means I have extra toes for you to enjoy! I am a declawed kitty so if that's what you are looking for than I'm your gal! The new baby is stressing me out, so I'd do better in a house with older kids and teenagers. I enjoy attention from my big people and would love to  be your companion if you are an older family that would enjoy a quiet sweet cat. If you are interested in me you can contact my mom at mindyrpowers@gmail.com.
My name is Pepper! I'm a four-year-old male who has been neutered and is up-to-date on my rabies vaccine. My mom and dad say I'm always dressed to impress since I'm a tuxedo cat! I love people, napping, and watching the birds and squirrels outside. But, I'm an indoor kitty and am just fine with that. I don't care to be picked up but I have a strong blanket radar! When mom and dad sit down with a blanket, I'm right there to curl up in a lap! Some nights, I'll snuggle up with them in bed, too. There's a big dog in my house but he doesn't pay me any attention and I like it that way. I need a new home for two reasons. One, I'm not an only kitty and I really want to be the boss. Admittedly, I can be quite the bully to one of my female cat-mates. And, two, I need a special diet for urinary health but I really, really want to eat the same food that everyone else eats! I know my mom and dad will be terribly sad but I have lots of love to give to someone else. If you would like to meet me, I can be reached by contacting Melanie Harris at malowder@me.com or 980-621-1884.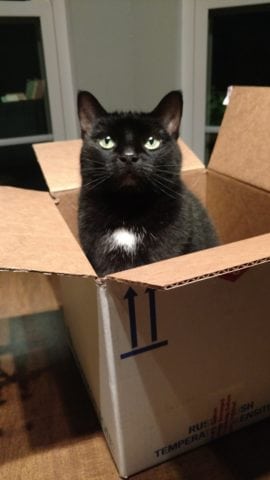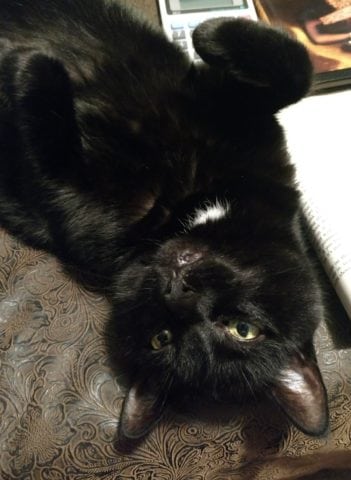 Hello World! My name is Quinn and I am a 9-year-old, black and white, domestic short-hair with beautiful green eyes! I am incredibly independent and self-sufficient. I love, love, love sleep – I be caught snoozing in a linen closet if left open or in a ray of shine-shine peeking through the curtains. If I'm not sleeping the day away, I am on the hunt: Cackling at birds through the window (I'm an indoor cat but I remain hopeful) or relishing in the catnip on my scratch pad. I grew up around dogs but now that I am older, I just can't deal with them. In my current home, I am completely stressed out and just want to have my own space. The stress has been making me prone to UTI's but with my new diet, I am hoping things clear up soon! Being in a house with no other dogs would certainly help. I am a quirky cat who just wants a little more personal space. Can I be your one and only? If you would like to meet me please reach out to nminks24@gmail.com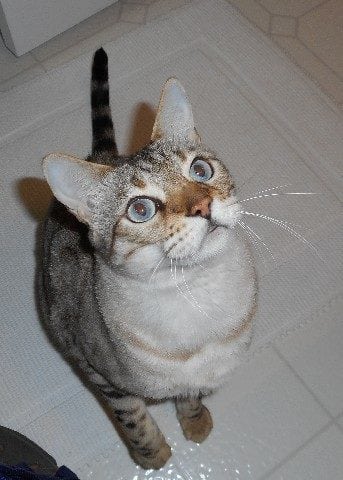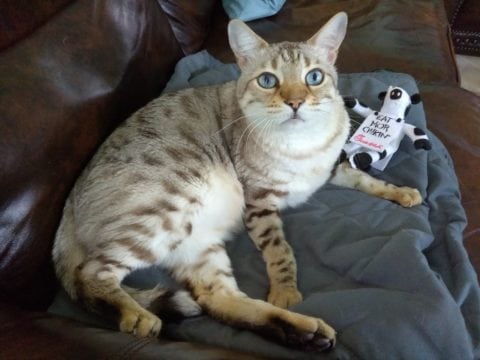 Moses is a 9/10 year old lynx point Bengal. He is a friendly, high energy, fearless, playful and curious. Not a cuddle-kitty or lap-cat but is affectionate. He loves attention but also likes alone/quiet time burrowed under a blanket or bed spread. Moses is a de-clawed inside only cat but is also leash trained and enjoys a daily walk in the yard. He likes IAMS kibble as well as tuna and chicken. He can be a little finicky when it comes to wet canned food however. Loves to play fetch with a toy or a plain ball of paper. If you are interested in meeting with him, please reach out to Cat at ccarter@ia322.com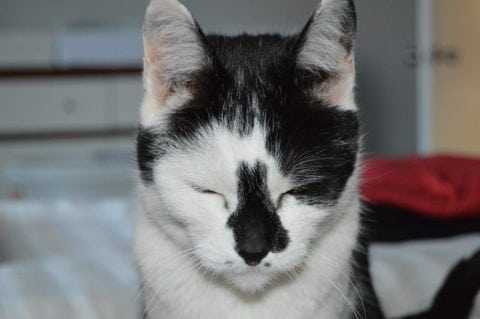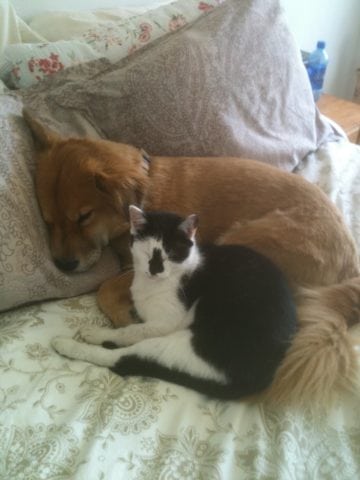 Hello, my name is Nose.  I'm about 14 years old, neutered male.  I come from a loving home where I live with another feline, a canine, and two toddlers.  My family is relocating overseas and is hoping to find me a new loving family to save me the stress of a big move as I prefer not to travel. I have a sweet personality – I love cuddling, I prefer to be with people (my family or new friends), and enjoying sunning myself next to a window or on an enclosed patio.  I've got a lot to say around dinner time, but who doesn't?  I'm great with toddlers/children and often find myself hanging out in their playroom, the occasional tail pull is a small price to pay for all the attention!  Do I play? Sure do!  Chasing balls is my favorite!  I use to play outside but have become an indoor only cat.  My current feline room mate is OK, but I would prefer to be the only kitty.  Dogs on the other hand, if they're cool with me, I am perfectly fine with them!  If you're interested in learning more about me, please contact Kipp Cummins at kipp.cummins@gmail.com or at 214.695.5153.  I look forward to meeting you!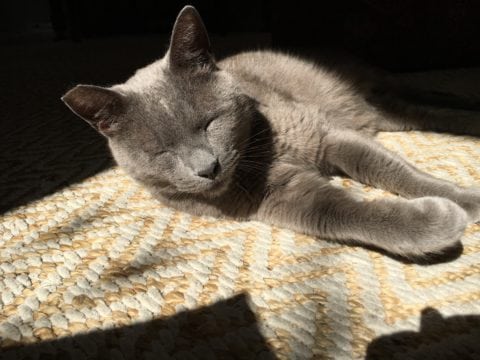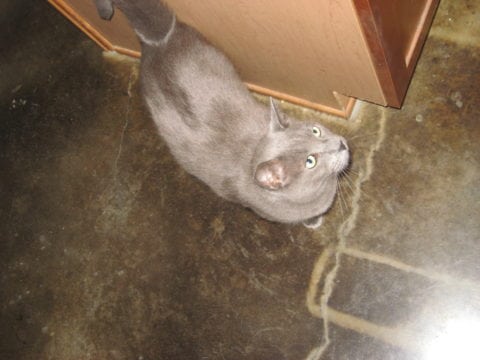 Hi. My name is Grey Guy, original, right? I'm looking for a new home because my family is moving overseas and I find moving stressful.  I'm a cool cat of about 11 years who lives with another cat, a dog, and a couple of crazy kids. Despite my age, I've got an inner kitten personality that enjoys chasing any bug that makes its way into the house. Snuggling is my forte– my favorite time of day is when my humans sit down for the night and I can curl up with them on the couch.  I'm an indoor kitty that gets along fine with dogs, cats, and kids. I look forward to meeting you. Meow. Please reach out to Kipp Cummins at kipp.cummins@gmail.com or 214-695-5153.