iCare Rehoming Board: Puppies & Dogs

Hello, my name is Capone. I live in Statesville, NC. I'm a 1 1/2 year old American Staffordshire Terrier and I have a beautiful smile. I'm looking for my BFF and my FOREVER home. I enjoy going for car rides as long as you stop and let me go pee. I love long walks just as long as we have cold water for me to drink. I love playing in the yard and romping around with my balls, smiley face squeakers and all my other toys. I enjoy eating frozen watermelon bars (as you can see from my pictures). Loud noises hurt my ears and scare me, like your lawn equipment, etc. I'm use to a quiet and calm environment. However, I do have a lot of energy as I'm still a puppy. I love having you to myself so I need my parents to be patient and loving with me. We could continue my training together. I also need to be your only dog with a fenced in yard. I've never been around children either. There are times when I like to just lay around and do nothing or lay in bed with you, my pillow and watch a movie. So if I sound like I'm the perfect match for you, please contact my MOMMY at: harleygirl3f@gmail.com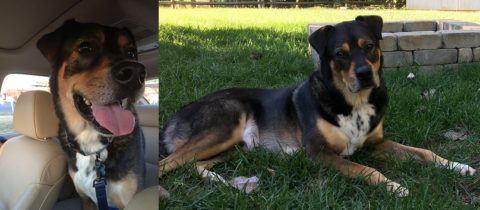 How many licks does it take to get the center of a tootsie roll pop?  Depends on who's doing the licking.  But I do know this: I'll lick my way to the center of your heart in no time.  It's my favorite way of showing everyone how much I love them.   Oh sorry, I'm Walter and I'm 7 ½ going on 30.
I have a bit of an old soul, kind of goes with the name.  I enjoy the daily walks and games of fetch, but some times prefer just to lie down by the couch and stretch out these old legs.  I can't carry these 73 pounds as long as I used to.  I certainly enjoy my own personal space and will always respect yours, minus the licking.
I'm house and crate trained, and know how to walk proper on a leash, once all the initial excitement wears off.  I've got a big bark but it's only meant to alert my family to potential danger.  Unfortunately, I have developed some anxiety over the years, but, honestly, who's not scared of thunderstorms?
My interactions with other dogs have been hit-or-miss, but on a leash it's best they keep their distance.  I did grow up with a small dog and a cat in the house, without incident, but my current fur brother is way too hyper for me and that's causing my parents to split us up.
So if you're looking for a laid-back, new best friend, I'd love to meet you. For more of my info,  please contact Scott @ schambrick@gmail.com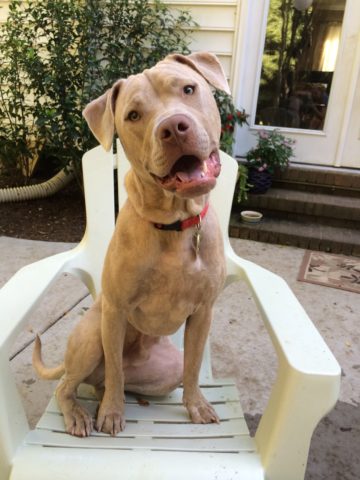 Hi, hola, hello, hey! I've been told I have a big personality. I take it as a compliment. I'm a self-proclaimed goofball and will do whatever it takes to bring a smile to your face. I've been known to kiss away tears. I'm a people pleaser so all I want to do is make you happy. My name is Asher and I'm 4 1/2.
Even though I have a lot of energy I also love to settle in for a good cuddle. (And just so you know, I prefer to be the 'little spoon'). I'm a lap dog trapped in 63-pound body. 63 solid pounds of love and affection. Sometimes I forget how big I am, but my motto is "if I fits, I sits".
I'm house and crate trained, love going for walks and car rides (shot gun!). I aim to please and love learning new tricks. I know a lot already. Sit, stay, shake, lay down, sit up, jump, spin, hug and kiss. "gimme a kiss" being my favorite. I'm also good at destroying toys my mom brings home for me. My record is 8 seconds flat! Some think this is weird, but I also love shredding cardboard boxes.
I'd prefer a home with a yard, because I'm perfecting my fetch game. My goal is always to get the ball before it hits the ground. I also have fun sniffing around, looking for frogs and lizards. I'll try to catch squirrels and birds too. SQUIRREL!
When I'm inside I'm content to curl up on the couch or lay in the sun and look out the window. If something seems suspicious I will bark to alert my family. It's my job to make sure they're safe. But if my family knows you, I'll greet you with kisses. If I'm overly excited I might jump, but it's only because I'm happy to see you! I love people.
I like to be the center of attention, so I will need to be your only pet.
If you're looking for a fun-loving companion, we should meet! To learn more about me, please email Meghan at m.macleod2005@gmail.com
Jax is a 2 year old Dachshund, Beagle, Chihuahua mix that loves attention, to play and to snuggle with his family.  He also loves to play with other dogs in the family.  He has a big appetite and can't wait for breakfast and dinner and is always happy to enjoy a treat or a new toy.  Jax is a sweet dog that is very smart and interactive with everyone in our family but he also can be very nervous and have a hard time adjusting to change, especially when visitor come to the house.  We have a young family with lots of visitors and, unfortunately, Jax gets very nervous when new people enter or leave the house.  He also struggles to control his nerves when on walks and he sees other dogs.  Because we love Jax so much, we have tried to help him relieve him of his anxiety by working with trainers, behaviorists and veterinarians.  Despite our best efforts, our veterinarian's advice is that Jax would be better suited for a quitter home without children.  We think that Jax would be a great addition to a house that is quite, safe and has a stable routine. If you are interested in meeting with him or learning more about him, please reach out to Shannon at shannonpons@hotmail.com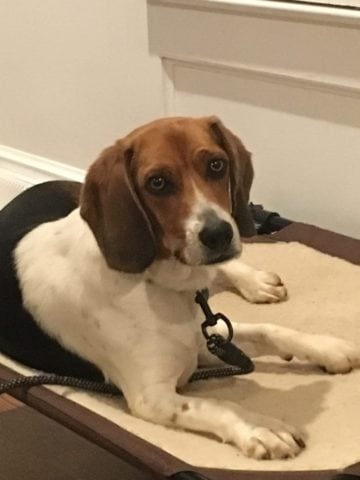 Meet Chipper. I enjoy being outside, fetching a ball, laying in sunny spots, and playing with my chew toys—especially my rubber chicken and my Frosty the Snowman. I am a housebroken 22-month-old pure-bred, healthy, neutered male beagle with current rabies immunization. I love human companionship, but I would do best in a home with only adults or adults with teenagers. Little people make me anxious. My favorite thing to do is play outside so a fenced yard or home with land would be ideal. I like to run! If you are interested in meeting with me, please reach out to sbblackwell@msn.com.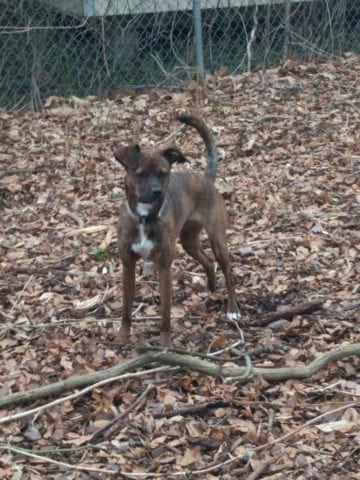 Hello I'm Chani, an adorable, 1 year-old, 25-pound brindle girl, who is looking for a family or single human to adopt. I have a strong preference for humans who are playful and active — and love to take my human out for exercise regularly!
I really need my person to be sufficiently fast so they can catch me before I bolt across the street after a squirrel! Are you that fast? No, then a fenced-in yard is best for me. My favorite activities are running back and forth after sticks, playing with toys, and just simply being outside!
After burning off my human's energy, I enjoy cuddling on the couch and watching TV. I also love guests, and will entertain them with boisterous affection and invitations to play.
Lastly, I am health-conscious, and am up-to-date on all shots and have been spayed. I have my own thunder shirt, leash, walking harness, and indoor ball. However if you decide to take me home, you are expected to maintain an adequate supply of sticks! If you're interested in meeting in meeting with me, contact Cary Head at 704-877-4323.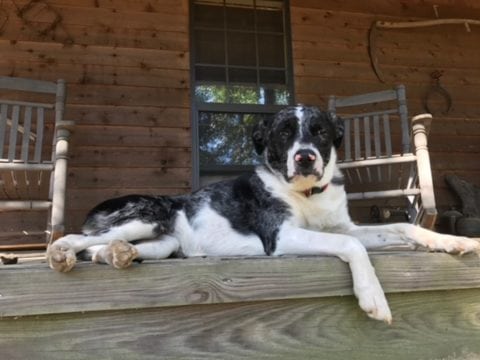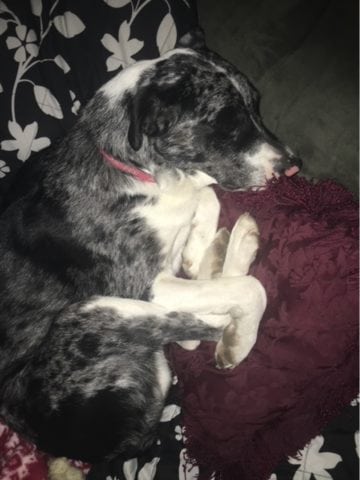 Hello,
My name is Kady. I am a 3 year old Australian Sheppard Mix. I am spayed and up to date on all my shots. I am up to date on flea and tick medicine as well. I am a very sweet girl who wants nothing more than to be loved. I love napping on my doggie beds and running through the woods. In the winter I prefer to lay in front of the fire place. I am still learning to walk on a leash so it's best to walk me with a full body harness, but I love being taken for walks! Car rides make me really excited too. I am sweet girl looking for a home that needs just one dog and that has someone who is home a lot to give me all the love. I like other dogs and get along with them when I need to, but I'm not a fan of a roommate. My current home has another dog and we don't really get along. We don't fight or bite, because I am so sweet, but we do battle for my current mom's attention. My current dog mom is pregnant with her first and feels having two dogs is just one too many. She wants nothing more than to find a home where I am given all the attention that I deserve. I am slightly skittish to men but I love my current dad dog, he feeds me cookies and takes me for rides in the truck which make me super happy. I am hoping to find a forever home where I am the only pet and I have space to run. I get along with everyone and have never met a stranger. I hope whoever is reading this is my next doggie mom and/or dad.
For more information please contact Isabel at Isabel.Burson@gmail.com
Hello, my name is Nala. I'm a labrador australian cattle dog mix, weighing 55 pounds, and I just
turned 3 years old on August 9th. I'm looking for a great home with a nice backyard to play fetch
in all day long! I love to run around and play with other dogs, and I love children too. Sometimes
I can get a little over excited but after a minute I calm down, it's nothing to stress about. Other
toys I like are tiny plush, squeaky toys and my big treat-filled bone. I have a lot of energy, but I
do like some cuddles especially because I love to give a ton of kisses. I want a home that is
peaceful and a family that can give me lots of love, along with head scratches and belly rubs. I
get scared easily from loud noises, they make me pace around the room, and I'm anxious at
times, so I really needs parents that have a lot of patience with me. Oh, and I know some tricks
too! I can give high-five, lay down, sit, and give paw (I know that's quite impressive).I can swim
very well, so the beach is one of my favorite places to go especially when you bring a ball to
throw in the ocean for me to catch. I can't forget to mention this, I'm also house trained and am
awesome to take a road trip with (I really just lay back and relax).
Anyways, if you want a loving, energetic, and friendly new furry baby then I'm what you're
looking for! To get more information email my mom Katie at katiefontana96@gmail.com .