DIY Service Projects
We invite young animal lovers to help us make a difference through the Humane Society of Charlotte. Our Junior Volunteers learn about animal welfare issues, careers working with animals, animal care, and character education such as responsibility, compassion, kindness, empathy and giving back to the community. Our programs offer the opportunity of earning service hours for school or civic organizations. Kids can support and help the animals at our shelter and those in the community in several different ways.
At-Home Projects that Support HSC
Check out the ways you can support the animals at the Humane Society of Charlotte with fun at-home projects!
Help build shelters for Charlotte's Community Cats!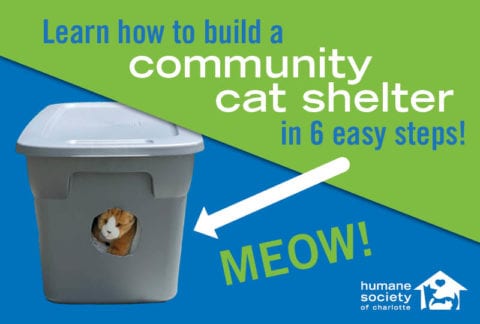 Want to donate your Community Cat Shelter back to HSC? Drop off your project from 11:00 am – 5:00 pm. One of our Customer Service Representatives at the front desk can sign any forms needed.
Questions about our Community Cat Shelter needs? Please contact our Community Cat Manager at 704.494.7717 or email here.