DIY Service Projects
We invite young animal lovers to help us make a difference through the Humane Society of Charlotte. Our Junior Volunteers learn about animal welfare issues, careers working with animals, animal care, and character education such as responsibility, compassion, kindness, empathy and giving back to the community. Our programs offer the opportunity of earning service hours for school or civic organizations. Kids can support and help the animals at our shelter and those in the community in several different ways.
Select a DIY project to do at home!
Click here for fun ideas and projects that give back to the Humane Society of Charlotte!
Help build shelters for pets in need!
Build your own dog house.
Build an outdoor cat or community cat shelter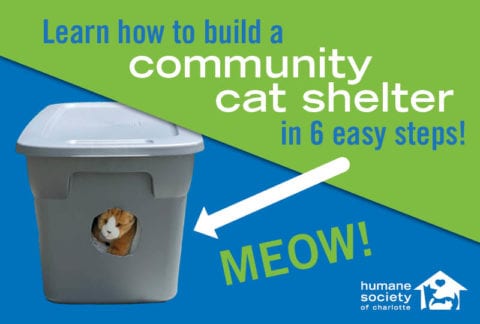 Community Cat Shelter Build Instructions
Please contact our Community Outreach team before constructing dog houses or cat shelters.  Our needs for large or medium-sized dog houses will vary based on the requests we receive. We also have limited storage space if you plan to donate your project.  If constructing dog houses, please contact our Outreach Manager at 704.494.7710.  If constructing Winter Cat Shelters, contact our Community Cat Coordinator at 704.494.7717.
Earn your school service hours
You can earn service hours by completing one of the following projects.
Organize a fundraiser for the Humane Society of Charlotte (bake sale, car wash, etc.) – 5 credit hours
Complete the Humane Society of Charlotte  Wish List Scavenger Hunt – credit hours vary
You may drop off your project from 11:00 am – 5:00 pm Wednesday-Monday. One of our Customer Service Representative at the front desk can sign off on any forms you need.
For more information, please contact us.