Planned Giving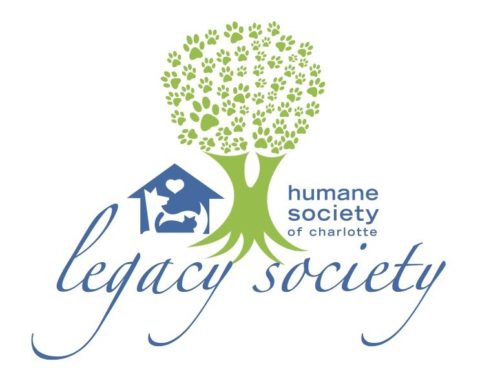 Planned giving makes every dollar go farther.  To maximize your charitable giving, as well as fulfill your own financial needs, you can fund the future of the Humane Society of Charlotte through your estate planning.  Making a gift through your estate is one of the most effective ways to ensure that we can carry on our mission to save animals' lives far into the future. The Humane Society of Charlotte invites you to join other supporters who have already taken the steps necessary to ensure the future of our organization. We look forward to working with you to design a gift that meets your charitable and financial goals.
Three easy giving options include bequests, retirement plan assets and life insurance policies. For more information on making a planned gift and becoming a member of our Legacy Society, please contact Donna Canzano Stucker, or call 704-494-7704.
Thank you to the following members of the Legacy Society as of January 31, 2018.
Anonymous (9)
Susie Adams
Estate of William Allan
Ann Babcock
Estate of James Thomas Barkley
Leslie Barrett
George Beckwith
Margaret Belton
Estate of Dean Bigham
Larissa Bixler-Stein
Estate of James E.  Blades
Estate of Stewart Blake
Mitzy Bondurant
Marilyn & George Bosian
Earl Branham
Jaclyn Bresson
Bill Briggs
Carol S. Brown
Beatrice W. Butt
Cindy Caldwell
Steven D. Carter
Carol Cercioglu
Peta Corner
Estate of Eileen Corpening
Susan & John Corriher
Karen L. Cox
Cindy Cuddy
Berry Davidson
Tamara & Joe Davis
Jeanne L. Deiger
Estate of Sharon Dixon
Peggy Donovan
Roberta Driessen
Estate of Evelyn Jean Dulaney
Rhonda Honey Duncan
Estate of James Edwards
Cheryl Darlene Ellis
Connie Enright
Sheri & Tracy Ewing
Betsy Ferguson
Sharyn Renee Fleenor
George Finley
Estate of Bruce Frazier
Estate of Charles H. Free
Jud H. Gee Revocable Trust
Darlene & Dean Glasel
Pamela Goard
Meg Goldstein & Matthew Luftglass
Sara Pearson Graham
Janet L. Greene
Haruko & Michael Greene
Bill Hamelau
Carol A. Hance
Joyce & Ronnie Hannon
Jamie & Jason Hayes
Ann C. Helms
James Edward Hickmon
Helen Quinn Higgins
Estate of Patsy J Honeycutt
Cathy W. Hudson
Ollie Diane Huff
Estate of Sudie Brotherton Hughes
Therese Humphrey
In Memory of all Abused Animals
Jerri Lynn Jackson
Adara & Josh Jacobson
Estate of Patricia & Everett Jensen
Lynne & Bill Kellam
Marye Kelly
Estate of Sarah Lynn Kennelly
Christine C. Kunkler
Sandra & Thomas Lehman
Rita Leonard
Estate of James Little
Jonathan Littlepage
Heather Livengood
Estate of Wally K. Lovern
Lynn Lytle
John Henry Maas
Joan Mashburn
Phyllis McDonald
Estate of James McIntosh
Estate of William H. McKee
Ethel Melissa McMahan
Ms. Scott C. McNeish
Annette & Rick Miner
David J. Monroe
Estate of Elizabeth Moore
Shelly Moore
Tracy C. Morgan
Russ Morrison
Jean & John Oakes
John Robert Ogden & Cecelia Mary Ogden
Susan O'Shields in Memory of Parents Joyce & Joe O'Shields
Coleen Postilo
Dorsey Patrick
Bethel Regan Pentel
Steve Phillippi
Vicki Pietrangelo
Wendy J. Porter
Estate of Erika Preslar
Donna & Michael Ragan
Estate of Judith Marie Renegar
Linda Dolores Rider
Nancy & Bruce Roberts
Wendy & Frank Rosen
Clayton T. Rumble
Robin Smith Salzman
Bill San Filippo & Bob Zimmermacher
Alice Sangster
Doris & Lynda Shaad
Dawn Siebert
Dennis & Evangeline Soter
Leslie R. Stacks
Stephanie Stenglein
Donna Canzano Stucker
Brenda R. Temple
Mrs. Marion Q. Thornton
Joan Turlington & Dennis Callan
Estate of Richard Wardlow
Estate of Coline Walker
Beverly Quinn Ward & William C. Ward, Jr.
Catherine Collette Watson
Scott Weinstein
Robert Weller
Estate of Valerie B. Wikoff
Joyce Maclean Williamson
Michael Wofford
Carmen Hildegard Yergeau
Legal Information
The Humane Society of Charlotte, Inc. is a 501(c)3, not-for-profit organization as determined by the U.S. Department of Treasury and the Internal Revenue Service. Our federal tax id number is 58-1342479.