Circle of Friends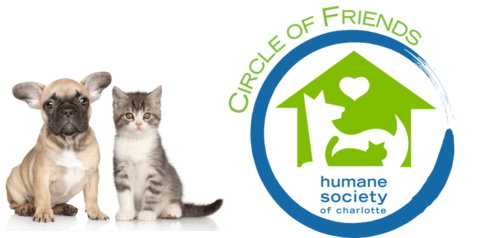 The Circle of Friends is a special group of dedicated supporters who have a financial impact of $500 or more annually to support the work of the Humane Society of Charlotte. Donors who invest at this level are automatically included in the giving society. Annually contributing over $1 million, their collective generosity enables the Humane Society of Charlotte to fulfill its mission of being a community resource committed to delivering effective, innovative services that strengthen the human-animal bond and improve the lives of companion animals and the people that care about them.
Levels of Support
Guardians: $500 – $1,499
Leaders: $1,500 – $4,999
Partners: $5,000 – $9,999
Innovators: $10,000+
Members of the Circle of Friends receive recognition on the HSC website, donor board in the shelter lobby, and in the Ties & Tails Gala program book. They also receive invitations to special donor receptions held throughout the year.
For more information on being a part of the Circle of Friends, please email Eileen Bouressa or call at 704.494.7704.
Thank you to our Circle of Friends members.