Adopt a Cat
We are currently closed as we move into our new home, the Animal Resource Center located at 1348 Parker Drive.
We do not have any animals available for adoption. If you are interested in adopting, please visit our community partner Mecklenburg County Animal Care & Control.
Thank you to our 2022 Shelter Sponsor, Animal Medical Hospital!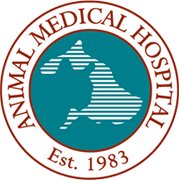 You can view all of our available cats below. Our website updates every 30 minutes. 
Thank you for choosing to open your home to one of our adoptable animals! To ensure you have the best adoption experience and find the best match, adoptable animals are available to meet by appointment.  
To request an appointment to adopt a cat or a kitten, click the button below and follow the instructions on the appointment scheduler.
You must be 18 or older to adopt and have a valid form of identification. 

Not sure what type of companion you're looking for? That's OK. You can make a general appointment to discuss what you're looking for in a furry friend and our adoption team will help you find your perfect match.
Unsure of your schedule? You can also visit the shelter between 11 am – 1 pm or  2 pm – 4 pm. We will do our best to accommodate a meet and greet with our animals if we have an available adoption counselor. If no adoption counselor is available, we will schedule you for our next available appointment.
Did You Know?
HSC has an adoption program established to find homes for cats and kittens currently being treated for Ringworm.  Ringworm is a treatable fungal infection commonly seen in cats.  This program equips new pet parents with the tools and knowledge to easily treat their newly adopted kitties in the home.  Cats and kittens are more likely to recover more quickly in a less stressful environment, like a home. Consider adopting one of these cats/kittens today.
Didn't find your paw-fect match today? Be sure to check back daily as we are regularly transferring animals into our shelter! As a community resource committed to the pets and people in Charlotte, we also encourage you to visit adopt-a-pet.com to learn more about pets looking to be rehomed in our community.