About Us
The Humane Society of Charlotte believes in working to improve our community by creating new, loving families, and building a world where there are no more homeless and unwanted animals. This is an ongoing process — for every animal we can connect with a new family, another animal in need comes to HSC's shelter. As a private, 501(c)(3) nonprofit, the HSC relies on the generous support of animal lovers, grants, bequests, and fees for service.
HSC is not affiliated with any other animal welfare organizations and we do not receive government funding.
No-Kill Philosophy
The Humane Society of Charlotte follows a no-kill philosophy, which is based on saving all animals that come to us. We believe that no healthy, treatable, behaviorally sound animal should have to be euthanized in our community. We only reserve euthanasia for animals whose prognosis is poor and quality of life is compromised or those that pose a danger to public safety. We are working towards this goal by supporting our local municipal shelter and those in the greater Charlotte community. Our commitment to this philosophy is evident in our live release rate of 99.9% for the animals that come into our care. We are able to have this excellent outcome by having programming and activities centered on our four pillars of focus which are prevention, retention, placement, and education.
Mission and Values
Humane Society of Charlotte Mission
Our mission is to champion the wellbeing of companion animals and strengthen their bond with the people who know, love, and need them.
Charlotte Community Vision
We envision a future when all companion animals have the support, care, and human connections needed to lead healthy, rewarding lives.
Diversity, Equity & Inclusion Belief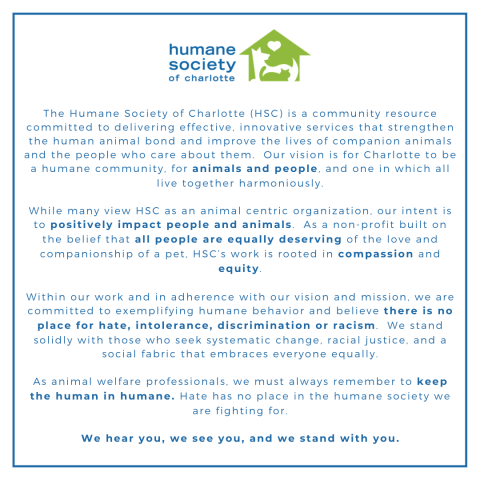 Foundational Belief
We believe people will make good decisions for animals when they are treated with kindness and understanding, and when they have enough information and resources.
Our History

Our Capital Campaign
We reached our capital campaign goal of $15 million in the Spring of 2022 and officially opened the Animal Resource Center on June 1, 2022. Thank you to the Charlotte community members who supported this transformational project. View photos from our grand opening here.
Watch our Building Recap Video
Fast Facts & Statistics
Tax ID: 58-1342479
View our Fast Facts 2022
Financial Statements
The Humane Society of Charlotte receives an annual audit from C. Dewitt Foard & Co. Please see below for the latest 990s.
Our Policies
Privacy and personal information security are very important to us and the Humane Society of Charlotte fully respects the privacy of our adopters, donors, and volunteers.
Donors/supporters are not required to provide any personal information to us unless they choose to do so. We ask for personal information on our online donation pages to enable donation transaction processing, acknowledge receipt of donations for tax purposes, and send future correspondence. The Humane Society of Charlotte does not rent, lease, or sell donor information to any outside agencies.
If you utilize our adoption or spay/neuter services, your name and address will be placed on our mailing list. We may use this information collected to circulate news about the Humane Society of Charlotte and its programs to promote events and to acquire new supporters. Your information may also be shared with other reputable companies that shelter partners that may want to contact you with offers.
If you have any questions about our policies, do not wish to receive physical mail from us, or not have your name shared with third parties, you may call us at any time at 704-377-0534 or e-mail us at info@humanecharlotte.org.
Security Policy
Your payment and personal information are always safe. Our Secure Sockets Layer (SSL) software is the industry standard and among the best software available today for secure commerce transactions. It encrypts all of your personal information, including credit card number, name, and address, so that it cannot be read over the internet.
Gift Acceptance Policy
For information about our gift acceptance policy, please email donate@humanecharlotte.org.
The Humane Society of Charlotte operates and maintains its social media sites to provide information about our programs, services, projects, issues, events and activities. We welcome participation on the Humane Society of Charlotte's various social media pages, and we encourage you to participate in our online community.
By taking part in the postings and discussions on the social media pages belonging to HSC, you are agreeing to the policy outlined below.
The Humane Society of Charlotte reserves the right to remove postings or comments that it believes are inappropriate for any reason including:
Offensive or inappropriate in nature
Misleading or irrelevant information
Bullying, derogatory, and personal attacks
Support of individuals or organizations that promote animal cruelty or ideals that do not align with the HSC mission
Promotion of violent or illegal activities
Spam or commercial sales
Using our name or likeness without permission
Hate speech
While we encourage open discussion and amiable debate on relevant topics, abusive/inappropriate language, bullying or chronic harassment of the Humane Society of Charlotte and/or its supporters/staff/volunteers is not acceptable. Continued violation of our policies will result in users being removed, banned, or blocked.
Thank you for your support as we all work together constructively to save more animal lives.