Shop & Save Lives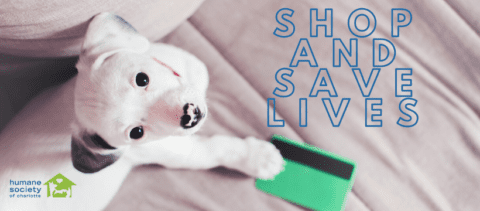 You can support the work of the Humane Society of Charlotte simply by shopping! When you shop, you save lives. So, shop away!
Businesses That Give Back
Botanical Bones

Botanical Bones is a small batch superfood dog treat brand based in Asheville, NC. 
Use code HSC10 to donate 10% of your purchase cost back to HSC

CatCaveCo

CatCaveCo makes the best handmade, sustainable Cat Caves on the planet.
Use code HSC10 for 10% off at CaveCatCo catcaveco.com.

Delilah Home

Give 10% to HSC and get 20% off your purchase using code HappyPup

Dirt Baggers

Focus. Breathe. Love Animals. The team at Dirt Baggers loves rock climbing and animals and is generously donating $1 to HSC with the purchase of each mask. Use the code RESCUELUV at checkout and get your Dirt Baggers masks today! Learn more at DirtBaggers.com
Grounds & Hounds Coffee Co.

Get 15% off your Grounds & Hounds Coffee Co. order AND have a portion of proceeds donated back to HSC! Click here and use promo code HumaneCharlotte.
"At Grounds & Hounds Coffee Co.®, we believe that great coffee can fuel a greater purpose. Through the sale of our Fair Trade & Organic, specialty coffees, we support rescue initiatives and organizations providing a second chance for pups in need of a helping hand."

Lady Ren's

Looking for all-natural, organic dog treats? Look no further than LadyRen's! LadyRen's will donate $1 to the Humane Society of Charlotte for each package sold. Shop here! Buy 9 bags and get the 10th free.

Little Beast

Little Beast carries unique items from beds to onesies from amazing independent brands. Support local businesses and women entrepreneurs! Use code CHARLOTTE for 10% off your order. Little Beast will then donate 10% of your order to HSC.

Pet Porter

Pet Porter is America's first on-demand pet transportation and concierge services network where you can travel with your pet or have a trained certified Veterinary Tech Assistant assigned with your pet. PetPorter drivers are bonded, have a valid driver's license, undergo a background check, and have current vehicle insurance & registration information.
Download the mobile app PetPorter and follow us on Instagram @get_petporter. We are happy to support the Humane Society of Charlotte by providing a 10% discount for services. Use the code: "pet3".

The Peaceful Paw

Shop The Peaceful Paw and treat your pet to in-home massage and handcrafted, locally made pet products. A portion of all proceeds goes back to the Humane Society of Charlotte when you shop at The Peaceful Paw.