Shop & Save Lives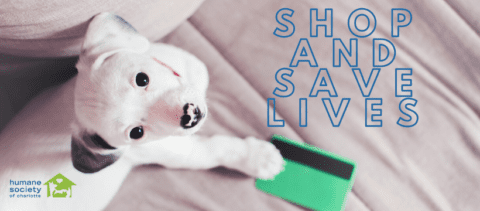 You can support the work of the Humane Society of Charlotte simply by shopping! When you shop, you save lives. So, shop away!
Businesses That Give Back
Amazon Smile

Shop at Amazon.com and help HSC's homeless pets—at no cost to you!
Visit www.smile.amazon.com and log in to your Amazon account as usual.
Choose "Humane Society of Charlotte" as your selected charity. Amazon.com will donate 0.5% of your eligible purchases back to HSC! Item Descriptions will let you know if the purchase is eligible for the donation program.
Purchases must be made through this special gateway to the Amazon site, so be sure to bookmark the smile.amazon.com page so you'll remember to go there first each time you shop!

Cat Topia

Cat Topia is a catio company that specializes in building custom outdoor cat enclosures. An outdoor cat enclosure is a home addition that provides cats with the ability to be outside in a safe space. Cat Topia works with local shelters to help animals in need and will donate 2.5% of each sale that comes through the Humane Society of Charlotte. Cat Topia will additionally donate 1% of any sale made in the area back to HSC.

CatCaveCo

CatCaveCo makes the best handmade, sustainable Cat Caves on the planet.
Use code HSC10 for 10% off at CaveCatCo catcaveco.com.

Calvin's Craft Cookies

Calvin's Craft Cookies make sustainable & nutritious dog treats using upcycled brewer's grains sourced from local breweries.
Each month they donate 15% of all proceeds to local rescue groups, including the Humane Society of Charlotte! Treat your pup and help other pets in need with these awesome cookies.

Delilah Home

Give 10% to HSC and get 20% off your purchase using code HappyPup
Delilah Home was named after a scared puppy who survived a life-threatening ordeal in the Carolina mountains. She weathered extreme cold temperatures and record winds by living off the land for 62 days. An entire community rallied for her return, watching, and searching until she was eventually reunited with her family. Sustainability, impact, community. Her story reflects the fundamental pillars of Delilah Home. The company's mission statements and visions aren't just corporate speak. They are how we live our lives when we are not at work. Our core values weren't born out of a branding session, they are a part of who we are as humans and are at the heart of every decision we make.

Dirt Baggers

Focus. Breathe. Love Animals. The team at Dirt Baggers loves rock climbing and animals and is generously donating $1 to HSC with the purchase of each mask. Use the code RESCUELUV at checkout and get your Dirt Baggers masks today! Learn more at DirtBaggers.com
Grounds & Hounds Coffee Co.

Get 15% off your Grounds & Hounds Coffee Co. order AND have a portion of proceeds donated back to HSC! Click here and use promo code HumaneCharlotte.
"At Grounds & Hounds Coffee Co.®, we believe that great coffee can fuel a greater purpose. Through the sale of our Fair Trade & Organic, specialty coffees, we support rescue initiatives and organizations providing a second chance for pups in need of a helping hand."

Happie Dog

Happie Dog Apparel Co. sells dog-themed apparel that is specially designed in the two colors that dogs see best, blue and yellow, and a portion of every Happie Dog sale supports local shelters. Purchase your HSC Happie Dog apparel HERE.
During the month of August, Happie Dog Apparel Co. is partnering with the Humane Society of Charlotte in Charlotte, NC to support the animals in their care. Use the code HSC at checkout and 20% from all merchandise sales during the month of August will be donated back to the Humane Society of Charlotte to help all of the Happie Dogs at their shelter.

Lady Ren's

Looking for all-natural, organic dog treats? Look no further than LadyRen's! LadyRen's will donate $1 to the Humane Society of Charlotte for each package sold. Shop here! Buy 9 bags and get the 10th free.

Little Beast

Little Beast carries unique items from beds to onesies from amazing independent brands. Support local businesses and women entrepreneurs! Use code CHARLOTTE for 10% off your order. Little Beast will then donate 10% of your order to HSC.

Montford Wicks

Shop Local and Get Lit! Montford Wicks has created special candles with the Humane Society of Charlotte logo. Montford Wicks will donate 40% of the sales of these candles back to HSC.
Click here to start shopping and get your own candle!

Pet Porter

Pet Porter is America's first on-demand pet transportation and concierge services network where you can travel with your pet or have a trained certified Veterinary Tech Assistant assigned with your pet. PetPorter drivers are bonded, have a valid driver's license, undergo a background check, and have current vehicle insurance & registration information.
Download the mobile app PetPorter and follow us on Instagram @get_petporter. We are happy to support the Humane Society of Charlotte by providing a 10% discount for services. Use the code: "pet3".

The Peaceful Paw

Shop The Peaceful Paw and treat your pet to in-home massage and handcrafted, locally made pet products. A portion of all proceeds goes back to the Humane Society of Charlotte when you shop at The Peaceful Paw.