Be A Party Animal!

Happy Birthday! Celebrate your special day or someone else's by partying with HSC! Make a special donation to the Humane Society of Charlotte and you'll get a customizable birthday certificate and a shout-out from HSC on social media! Donations of $50 or more will receive a special birthday video message from one of our adoptable pets!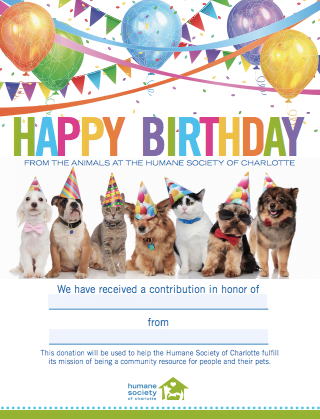 How else can I celebrate?
Create a personal fundraising page on Facebook and ask friends and family for a birthday gift that helps provide for an animal in search of a new life at the Humane Society of Charlotte. Every dollar raised comes back to HSC and helps us continue our important work.
Here's How:
1) Go to your Facebook account.
2) Go to your 'home' page, and look on the left side column. You should see the 'fundraiser' option under "Create" at the bottom. Click on "fundraiser" and Facebook will walk you through.
3) Pick your charity (Humane Society of Charlotte!)
4) Set your fundraising goal and time-frame. Set something that you feel good about and see where it goes! You can always raise the amount if you particularly like to challenge your friends.
5) Invite people on your friends' list and engage with them! Invite, invite, invite! Share often on your timeline: remember that not everyone will see something when you post just once.
6) Thank people as they donate and watch numbers go up! Seriously, these people are donating to HSC because of YOU – because they love you, they appreciate you, and they think you're awesome!
Party with the Humane Society of Charlotte VIRTUALLY!
The Humane Society of Charlotte can help you host a virtual birthday party through our Humane Education program! A variety of packages are available.