Trap-Neuter-Return
What is Trap-Neuter-Return (TNR)?
Trap-Neuter-Return (TNR) is a humane and nonlethal method to manage the number of community cats in our neighborhoods. The goal is to humanely trap outdoor cats, take them to a clinic for spay/neuter, vaccinate them against rabies, and return healthy cats to their outdoor homes. While at the clinic, we will also ear-tip the cats to make them easily identified as already altered & vaccinated. This is a TNR best practice.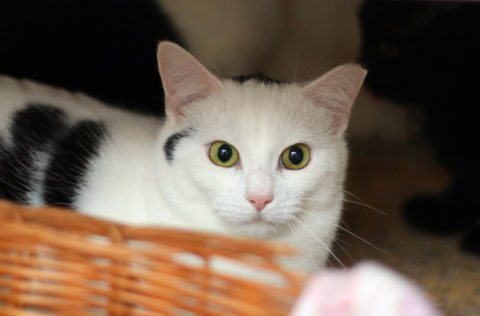 What is ear-tipping?
While the cat is under anesthesia for spay/neuter, the veterinarian also removes the tip of one ear. Ear-tipping is an easily recognized sign that signifies a community cat was already surgically altered and is unable to reproduce. This visual sign helps caretakers and trappers to know at a glance that a cat doesn't need to go to the clinic for surgery. Please note that while all ear-tipped cats are surgically altered, this does not mean all cats with intact ears are in need of spay/neuter. Some cats seen outside may be owned, and have already been altered.
Do I Need An Appointment for Surgery?
HSC is now accepting Community Cats for surgery on a walk-in basis on certain days of the week. See the April 2022 TNR Surgery Calendar and see which days we are providing surgery for TNR. We do not have the ability to hold cats overnight in the clinic, therefore we may reach capacity on any given day.
Check-in for Community Cats is at 8:30 am.
Where do I take a community cat for spay/neuter?
All TNR surgeries are performed at the Humane Society of Charlotte Spay/Neuter Clinic, located at 2646 Toomey Ave, Charlotte, NC 28203.
How much do TNR services cost?
A fee of $25 per cat will be collected for Trap-Neuter-Return surgery. The Humane Society of Charlotte considers TNR to be a vital service we offer our community and will continue to offer TNR surgeries at a reduced rate.
How do I Borrow a Humane Cat Trap?
Please stop by our shelter during normal business hours to borrow traps.
Please note: We will soon be moving into our new Animal Resource Center. The last day to rent a trap, until after our move, is April 8th. We ask that all traps be returned to HSC by Monday, April 25th. We plan to resume trap rentals mid to late May.
If you have questions about our TNR program, please contact the Spay/Neuter Clinic.
Please download our Trapping Guidelines and watch the below video for instructions on operating our traps.
For more information on Trap-Neuter-Return, please contact the Spay/Neuter Clinic at 704-333-4130 or via email at spayneuter@humanecharlotte.org.