Trap-Neuter-Return
What is Trap-Neuter-Return (TNR)?
Trap-Neuter-Return (TNR) is a humane and nonlethal method to manage the number of community cats in our neighborhoods. The goal is to humanely trap outdoor cats, take them to a clinic for spay/neuter, vaccinate them against rabies, and return healthy cats to their outdoor homes. While at the clinic, we will also ear-tip the cats to make them easily identified as already altered & vaccinated. This is a TNR best practice.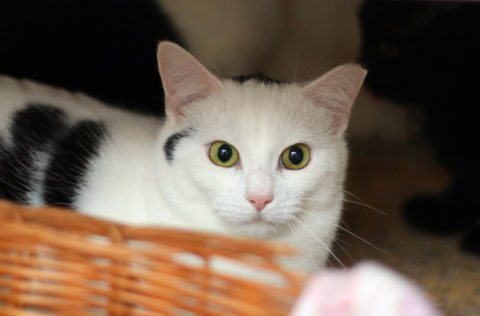 What is ear-tipping?
While the cat is under anesthesia for spay/neuter, the veterinarian also removes the tip of one ear. Ear-tipping is an easily recognized sign that signifies a community cat was already surgically altered and is unable to reproduce. This visual sign helps caretakers and trappers to know at a glance that a cat doesn't need to go to the clinic for surgery. Please note that while all ear-tipped cats are surgically altered, this does not mean all cats with intact ears are in need of spay/neuter. Some cats seen outside may be owned, and have already been altered.
Do I Need An Appointment for Surgery?
We are now requiring appointments for TNR appointments for cats. Click Here to Schedule Your TNR Surgery.
When scheduling, please note that the prices listed are the standard rates before any grant funding is applied.
For Mecklenburg County residents: Thanks to generous grants and donations, we are currently able to offer spay/neuter surgery at no cost for community cats.
For non-Mecklenburg County residents: Thanks to donations from members of the community, we are able to reduce the cost of the spay/neuter surgery to $20 per cat.
Where do I take a community cat for spay/neuter?
TNR surgeries are performed at the Gary T deLisser clinic, located within Charlotte Mecklenburg Animal Care and Control, 8315 Byrum Dr, Charlotte, NC 28217.
How do I Borrow a Humane Cat Trap?
You can book an appointment to borrow traps by clicking the button below if you are interested in helping spay/neuter a cat colony in your neighborhood through TNR. Due to the high demand for TNR surgeries, we recommend scheduling the surgery first, then scheduling to borrow traps a few days before your surgery appointment.
For more details on the Community Cat Program and how you can help, contact our Community Cat Program Manager by phone at 704-494-7717 or communitycats@humanecharlotte.org.
Please download our Trapping Guidelines and watch the below video for instructions on operating our traps.

Cold temperatures are coming. Learn how to make your own Community Cat Shelter!
Click here for directions to the Gary T deLisser clinic.
Learn more our spay/neuter services if you have a pet cat and want information.