Trap-Neuter-Return
What is Trap-Neuter-Return (TNR)?
Trap-Neuter-Return (TNR) is a humane and nonlethal method to manage the number of community cats in our neighborhoods. The goal is to humanely trap outdoor cats, take them to a clinic for spay/neuter, vaccinate them against rabies, and return healthy cats to their outdoor homes. While at the clinic, we will also ear-tip the cats to make them easily identified as already altered & vaccinated. This is a TNR best practice.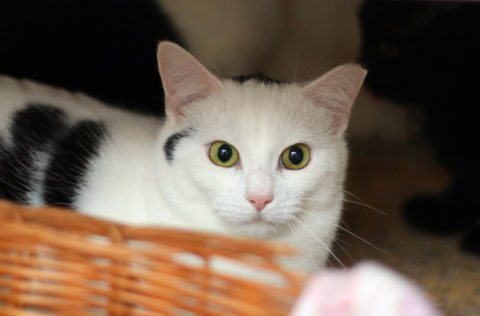 What is ear-tipping?
While the cat is under anesthesia for spay/neuter, the veterinarian also removes the tip of one ear. Ear-tipping is an easily recognized sign that signifies a community cat was already surgically altered and is unable to reproduce. This visual sign helps caretakers and trappers to know at a glance that a cat doesn't need to go to the clinic for surgery. Please note that while all ear-tipped cats are surgically altered, this does not mean all cats with intact ears are in need of spay/neuter. Some cats seen outside may be owned, and have already been altered.
Do I Need An Appointment for Surgery?
HSC is now accepting Community Cats for surgery on a walk-in basis on certain days of the week. See the December 2021 TNR Surgery Calendar and see which days we are providing surgery for TNR. We do not have the ability to hold cats overnight in the clinic, therefore we may reach capacity on any given day.
Check-in for Community Cats will begin at 8:30 am. Please note the location of the clinic providing TNR services has changed! See below for more information.
Where do I take a community cat for spay/neuter?
All TNR surgeries are performed at the Humane Society of Charlotte Spay/Neuter Clinic, located at 2646 Toomey Ave, Charlotte, NC 28203.
How much do TNR services cost?
Due to a lack of supplemental funding, our Spay/Neuter Clinic will begin charging $20 for every Trap-Neuter-Return surgery for community cats on Monday, October 4th. The Humane Society of Charlotte considers TNR to be a vital service we offer our community and will continue to offer TNR surgeries at a reduced rate.
How do I Borrow a Humane Cat Trap?
Please stop by our shelter during normal business hours to borrow traps. Due to the high demand for TNR surgeries, we recommend scheduling the surgery first, then borrowing traps a few days before your surgery appointment.
If you have questions about our TNR program or need in-person instruction about how our traps work contact HSC Community Cats Manager, Leah Massey, or stop by the shelter Monday, Wednesdays, or Thursdays from 11 am – 1 pm to speak with her directly.
Please download our Trapping Guidelines and watch the below video for instructions on operating our traps.
For more details on the Community Cat Program and how you can help, contact our Community Cat Program Manager by phone at 704-494-7717 or communitycats@humanecharlotte.org.