Behavior & Training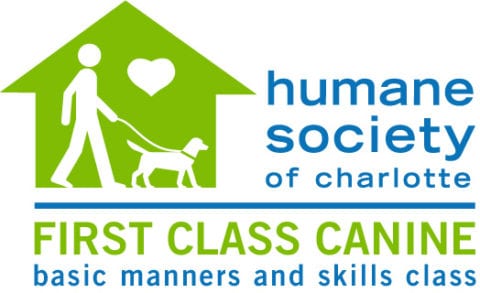 Learn more about our positive training programs below!
First Class Canine Classes
Join us this October for Saturday morning behavior classes. Each class will focus on different training skills. Pick one specific to your pet or join us for all four!
Classes will take place outside in the HSC parking lot.
8-10 people per session to practice responsible social-distancing. Details below
Masks required
Participants will need:
Leash & Collar/Harness
Training clickers
Training treats
Treat pouches/bag
---
Saturday 10/24 | 9:00-10:00 AM:  Puppy Playgroup & Socialization
$30 – Pre-Registration is Required. Register HERE.
At each class, we will work on socializing puppies to other dogs, strangers, new places, and humans wearing masks
Puppies must be between the ages of 8 weeks old and 4 months old to participate
10 people maximum
Please note: All participating puppies must be up to date on vaccinations based on their age and must not be exhibiting symptoms of vomiting, diarrhea, or flu-like symptoms 24-48 hours prior to class to prevent the spread of common canine diseases.
Saturday 10/24 | 10:30-11:30 AM:  Path to Leashed Resistance
$30 – Pre-Registration Required. Register HERE.
8 participants maximum
Focus: Loose Leash Walking, Walking Etiquette & Meeting People on walks
Saturday 10/31 | 9:00-10:00 AM:  Monster Mash Adult Play Group
Happy Halloween!  $30, Pre-Registration Required. Register HERE.
Dogs must be at least 5 months old and up-to-date on vaccinations
10 people maximum
Our adult dog playgroup and play-styles class is back by popular demand! Learn how to help your dog have successful play with dogs with a variety of play styles. We'll offer tips & tools to help you and your dog feel more comfortable in canine social settings.
Saturday 10/31 | 10:30-11:30 AM:  No Tricks, Just Treats Basic Manners Class
Happy Halloween! $30, Pre-Registration Required. Register HERE.
8 participants maximum
Masks required
We'll go over basic life skills and manners, including sit, wait, recall, and polite greetings with humans and canines.
---
At the Humane Society of Charlotte, our pet behavior/enrichment program has been designed not only to make sure animals who stay with us are happy, active and fulfilled – but also to help ease their transition from shelter life to forever homes. Once you bring a pet into your life, HSC wants to do whatever we can to help them stay part of your family, and that includes behavioral support from our experienced behavioral team.
We believe that with a positive training plan and basic life skills your dog will lead a happier, healthier, and more productive life. Our training philosophy is based on behavioral science, the human-animal bond, and positive reinforcement.
Questions? Email our Behavior Programs Coordinator, Carolyn Rositano
See our team working with Roxanne, a long-timer at HSC!

Head to our Post-Adoption Tips & Tricks page for helpful articles that tackle common behavior questions.