Caring for Kittens 5 Weeks and Older
Once kittens are weaned and eating on their own they are no longer dependent on mom for food and can go to new homes. This is also a perfect time to catch mom and take her through our TNR program so this will be her last litter.
Essential items for older kittens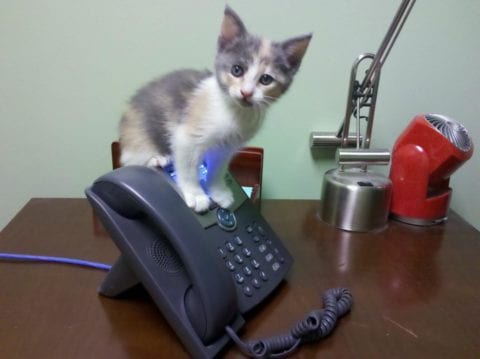 Wet kitten food (if unable to find, a pate cat food will also work. The calorie content is lower, but pate is easier for kittens to eat than chunks/shreds)
Dry kitten food
Meat-based Gerber baby food for fussy/sick kittens
Shallow food & water dishes
Heat source (snuggle safe heating disk, heating pad, rice socks)
Airline crate, wire crate, or enclosed mesh playpen for older (climbing) kittens
Fleece or towels
Non-clumping litter – clumping litter can prove life-threatening to kittens if ingested
Dawn fragrance-free dish soap (for bathing kittens with fleas)
Digital kitchen scale to weigh kittens
Pyrantel can treat many intestinal worms and is available at most pet supply stores
Mouse toys/crinkle balls
Tips to care for kittens Over 5 Weeks of Age:
Kittens 5 weeks and older should already be eating on their own and no longer require mom's milk or formula to survive
Older kittens are prime candidates for fostering. Socializing the kittens prepares them to live happily in a new home.
If fostering, kittens will be eligible for spay/neuter once they weigh at least 2 lbs. This is typically around 8 weeks of age
The FVRCP vaccine, often referred to as "cat distemper", will require at least one initial vaccine, followed by a second shot two to three weeks later. Ideally, kittens receive a final FVRCP vaccine after they are 4 months old
The rabies vaccine should be administered when the kitten is 3 months old. Any immunity offered to the kittens by mom's milk should wear off by then, allowing the vaccine to take effect
The tips listed on this page are not a complete guide to caring for kittens. Click the following links for advice on raising infant kittens: The Kitten Lady or the National Kitten Coalition
Some older kittens may prove difficult to socialize, in which case they may be better served by a TNR program. Since they would not make good in-home pet companions, they can at least undergo sterilization, get a rabies shot, and then be returned to where they were initially found to live out their life as part of their parent's colony.