Finding Homes for Socialized Kittens
Finding homes for kittens is a rewarding experience and allows you to know they have all found good homes. If friends, family, and co-workers are not able to bring a kitten into their lives, there is a free alternative online. Rehome.AdoptaPet.com, by the Petco Foundation and AdoptAPet, helps pet owners find new loving homes for pets. It is free to post animals for adoption.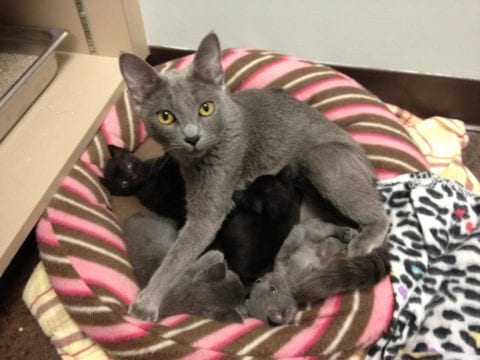 Socialization
Socialization is essential for kittens to successfully find new permanent homes. If kittens don't learn they are safe with people, they will never be happy inside their new home. If socialization fails and the kittens remain wild, the kittens can be returned outside where they were found after they are put through a Trap-Neuter-Return program to ensure they do not continue the breeding cycle.
TNR
Kittens aren't delivered by a stork. Where there are kittens, there are breeding cats. If you find kittens, please take advantage of our TNR program and loanable traps to catch the parent cats and bring them to HSC's low-cost, high-quality spay/neuter clinic; and consider getting them microchipped. Doing so makes the parents healthier and helps stop the yearly cycle of finding kittens in your yard.
The same can be done with older kittens living comfortably outside. If you are unable to foster or socialize them, they are candidates for our TNR program along with their parents. Kittens can be trapped and brought in for surgery as early as two months old, but it is usually best to wait until they are three months old if you plan to send them through our TNR program. That way, they are old enough to receive a rabies vaccine.
Trap Rentals are available Monday through Wednesday between the hours of 9:30AM-2:30PM. A Trap Rental Fee of $10 per trap for 14 days will be collected at the time of rental. Rental fees do not offset spay/neuter costs and are non-refundable, but instead allow us to continue and maintain the Trap Bank. For more information about our TNR program and borrowing traps, contact us at spayneuter@humanecharlotte.org.