It's Hip to Be Ear Tipped T-Shirt Design Contest

The Humane Society of Charlotte voted & selected the top 5 entries from the "Its Hip to Be Ear Tipped" Kids Art Contest. Now, we need everyone in our community to help vote for the winning design. The winning artist's design will be printed on a T-shirt and sold as a fundraiser to benefit the Humane Society of Charlotte!
Click below to learn more about the Hip To Be Ear Tipped Design Contest:
If you have any questions about the contest, you can email us at communitycats@humanecharlotte.org. Submissions will NOT be accepted through email.
What is the HSC Community Cat Program?
Any free-roaming cat seen outdoors could be considered a community cat. Some may have owners that allow them to wander outdoors, but many are un-owned, either stray or feral. Some community cats are friendly, but truly feral cats are unable to adjust to living indoors.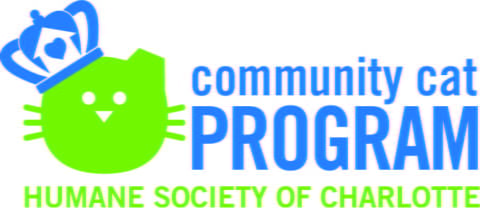 Trap-Neuter-Return, often shortened to TNR is a humane and nonlethal method to manage the number of community cats in our neighborhoods. The goal is to humanely trap outdoor cats, take them to a clinic for spay/neuter so they can no longer have kittens, vaccinate them against rabies, and return healthy cats to their outdoor homes. While at our clinic, we also ear-tip the cats to make them easily identified as already altered & vaccinated. Learn more HERE.
What is Ear Tipping?
Ear tipping sounds a little scary, but it isn't!
During surgery, the veterinarian removes the tip of the left ear. So, instead of the ear being triangular, it's now flattened on top.
Ear-tipping is an easily recognized sign that a community cat is already altered and unable to reproduce. This visual sign helps us know at a glance that a cat doesn't need to be trapped and go to the HSC Spay/Neuter Clinic for surgery. While all ear-tipped cats are surgically altered, this does not mean all cats with intact ears are in need of spay/neuter. Some cats seen outside may be owned or already had surgery, but don't have tipped ears.
What is the HSC Humane Education Program?
The HSC Humane Education Program was created with the goal to create safer and healthier communities for our children. It is through this practice that we are equipping our children with the tools necessary to think critically about the real-world challenges affecting dogs, cats, and people in Charlotte and to work together to identify creative and innovative solutions. Through this program, we are helping children cultivate empathy, compassion, and increase their understanding of personal responsibility for animals and people.
HSC's Humane Education Program offers Classroom Visits*, Shelter Tours, Virtual Birthday Parties, At-Home Crafts, At-Home Cooking videos, weekly StoryTime with Shelley and the Shelter Animals, and Community Service Opportunities for kids. Learn more HERE.