Become a Volunteer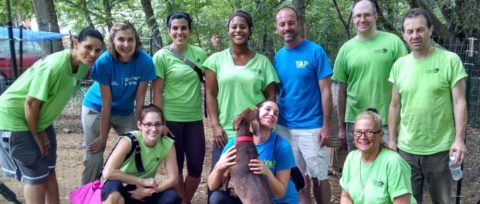 Volunteers are an important part of every department at the Humane Society of Charlotte, and opportunities to serve are numerous and varied. Volunteers are asked to commit to a minimum of 6 hours of service per month for at least 6 months. Please note that new volunteers are often assigned to our most urgently needed jobs, such as cleaning and administrative tasks like filing and phone calls. More experienced volunteers are given opportunities for additional training, which allows for animal interaction, training, and care.
Getting Started
The first step is to complete an online volunteer profile and liability release. After we receive your profile, you'll receive instructions to attend one of our bi-monthly volunteer orientation sessions within 3- 5 days. During orientation, you will learn more about our organization, including volunteer opportunities, health and safety guidelines, and more.
We charge a one-time administrative fee of $20 to help us cover the cost of our volunteer program.
Select the type of Volunteering you'll be doing:
Court-ordered Community Service
Thank you so much for considering the volunteering of your skills, talents, and time. We couldn't do it without you!