Become a Volunteer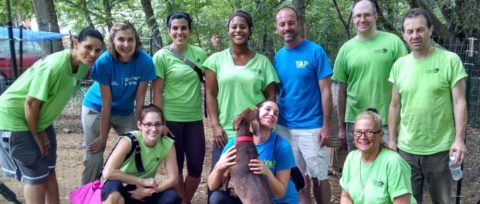 Volunteers are an important part of every department at the Humane Society of Charlotte, and opportunities to serve are numerous and varied. Volunteers are asked to commit to a minimum of 3 hours of service per month for a period of 6 months. Please note that new volunteers are often assigned to our most urgently needed jobs, such as cleaning and administrative tasks like filing and phone calls. More experienced volunteers are given opportunities for additional training, which allows for animal interaction, training and care.
For a copy of the HSC Volunteer information card – click here.
---
Special Note to Student Service Applicants:
If you are a student interested in earning school or civic service hours here at our shelter and are at least 18 years of age, please complete our online form here.
You will be assigned to the most immediate needs of our shelter, such as cleaning kennels and organizing our food pantry. After your service hours are complete, we can provide you with a certificate of completion if required. You are also welcome to attend an orientation and continue as a regular volunteer in the future.
---
Volunteer Eligibility
Individuals 18 years of age and older are eligible to volunteer with us.  All volunteers must attend one of our monthly volunteer information sessions and complete the Volunteer Profile and Liability Release. These meetings will give you an overview of our organization, relevant guidelines and processes.
We charge a one-time administrative fee to help us cover the cost of our volunteer program.   As long as you remain an active volunteer, one fee will cover your t-shirt and a name badge!
Fees:
Adults $20.00
Seniors 60 and over $15.00
Foster Care Only Volunteers – waived fee
Due to liability restraints, children 17 and under cannot volunteer on-site. However, there are still a lot that kids can do to help the animals. Check out Junior Volunteers, made especially for you!
Our opportunity directory contains volunteer needs that range from office work to professional services to hands-on animal care and socialization, both in the shelter and in foster homes. Specific training and instruction will be provided as needed for all volunteer tasks.
---
Getting Started
The first step is to complete an online volunteer profile and Liability Release. After the profile is approved, you will receive instructions to attend one of our bi-monthly volunteer orientation sessions. During orientation, an overview of our organization and volunteer needs is provided for potential volunteers, who may then supply information about their skills and interests so that they may be matched with volunteer jobs at the Humane Society of Charlotte. All volunteers must attend one volunteer orientation.
Please click here to complete the volunteer profile.
Thank you so much for considering the volunteering of your skills, talents, and time. We couldn't do it without you!