Become a Volunteer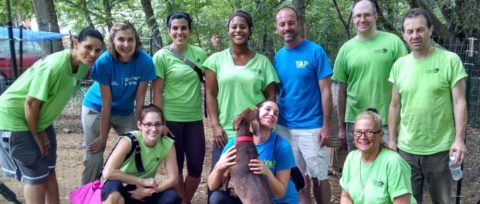 Volunteers are an important part of every department at the Humane Society of Charlotte! Some of the areas you can get involved in include.
Kennel Cleaning
Dog Walking and Enrichment
Cat Socialization
Clinic Services
Customer Service
Events
Getting Started
Thank you so much for considering volunteering your skills, talents, and time.
The safety of our volunteers, staff and public is incredibly important to us. With the news on COVID-19 rapidly changing the Humane Society of Charlotte is taking precautions to prevent the spread of COVID-19 within the Charlotte Community.
With this in mind we will regretfully not be accepting any volunteer applications. Please continue to check this page for any updates.
For any questions or concerns please email our Volunteer Programs Manager.