Opportunities
Volunteer positions
Volunteers are essential to our day-to-day operations, so please take a moment to look over a few of the highlighted opportunities below. We are in need of weekday volunteers. For a more detailed description of our available opportunities and shift times click here.
If you are interested in volunteering, click here.
Animal Care
This position allows you to get down and dirty. Keeping the kennels and cages sanitary and fresh is one of our greatest needs. So, if you are willing to clean kennels, cages, bowls, and toys — this job is for you! You'll probably get some TLC yourself, because the kennel staff will worship at your feet! You work alongside staff to maintain the healthy conditions in our animal shelter. Hours: 3 hour shifts available Monday-Friday; 8 am until 11 am and 3 pm until 6 pm. Limited Week-end availability.
Basic Feline Socialization
Do you enjoy spending one-on-one time with cats? Help animals become more adoptable and help reduce shelter stress by providing exercise, stimulation and playtime. Holding, playing, combing and brushing the cats gives them some much needed attention. This interaction helps the animals become comfortable with human contact and much more adoptable. Cat socialization requires extra training. Hours: 3 hour shifts available Monday-Friday. Not available on the weekend.
Customer Service Assistance
Do you like meeting and talking with people? Our Ambassadors meet and greet shelter visitors, guide them to adoption areas and answer frequently asked questions (cheat-sheet provided). This position is vital to the adoption of our animals. Training is provided on-site and no prior experience is necessary! Hours: 11 am until 2 pm and 2 pm until 5 pm daily.
Development /Back Office Assistance
Do you like computer work or assisting with fundraising efforts? This job helps with data entry, gift acknowledgement, alphabetizing donor records, folding/stuffing letters for mailings and other office work to thank our wonderful donors. Hours: Shifts available Monday-Friday.
Foster Family
Having foster homes allows us to take in litters of puppies and kittens that might otherwise be turned away. All that is required is that you enjoy caring for little ones, love them and keep them safe. Puppies and kittens usually are kept for two weeks and we provide necessary crates, food, litter and medications (if needed). If you are interested in this position here is some more information.
Spay/Neuter Clinic Assistance
Do you enjoy a variety of activities? There is always something to do at our spay/neuter clinics. You can answer telephones in the office, complete registration forms, clean the pet cages after recovery or prepare the sterile packs for the next day surgeries. Shifts available Monday – Friday
Special Events/Fundraising Assistance
You can help in the planning and execution of our special events and fund-raisers such as our annual PetPalooza. These fun events provide a diverse range of opportunities to use your skills and creativity.
---
Group Volunteer Opportunities
Since the Humane Society of Charlotte has limited staffing, it can be, at times, difficult for us to handle large groups of volunteers under our direct supervision. Your help can most effectively be used if your group is able to be self-directed. Here are a few examples of fundraisers that you can do that would be a big help:
A Sale: Ask 2-5 friends to help with a bake sale, book sale, or garage sale. You and your friends bake the goodies, or get the books or the other stuff required for the sale, staff it, and help clean up afterwards. This is an excellent way to get people involved in fundraising without ever actually asking them for money.
Have a Party: Have a fancy dinner or fun party. Charge people $20 to get in.
Spaghetti Dinner or SPAY-ghetti Dinner (get it?): Host a spaghetti dinner at a church or union hall or other big room with a large kitchen.
Change for Change: Ask all your friends, family, and classmates to save all their change for 3-5 months. Then cash it in and donate the money.
Host a movie night: Invite friends, family, neighbors, sororities, and classmates to watch your favorite animal movie (Babe, Lady and the Tramp, Finding Nemo, or Because of Winn Dixie). Make animal-friendly snacks to enjoy with the show (Animal Crackers, Goldfish). Ask attendees to bring an "admission fee" of donations or supplies from the our Wishlist.
Trick or Treat for Wishlist Items: Send out a flyer to everyone in your neighborhood that you will be "trick-or-treating" for the Humane Society of Charlotte and what day you will be around to pick up their donations, don't forget to list suggested items to donate (This doesn't have to be in October, you can come up with another creative name).
The above items are just some examples of things you can do. Feel free to come up with your own unique way to raise funds. Remember, this is your fundraiser. You will be responsible for the organization, production and cleanup. Make sure you have enough people to accomplish what you plan to do. Feel free to look over a our website for ways we are raising money and maybe your group could help promote something.
---
Spay/Neuter Clinic Volunteers
We are seeking energetic, quick learning and dependable volunteers to help out in our Spay/Neuter Clinics. Volunteers must be comfortable in a surgical environment and with working around animals. Volunteers need to have good customer service skills and work well with a team, be able to follow verbal instructions accurately, and be able to read and write.
Our volunteers are needed to help with washing and folding laundry, scrubbing and sterilizing instruments, tubes and masks, making and sterilizing surgical packs and assisting in moving animals from recovery back to their cages. Volunteers must be able to bend, kneel and stand for a reasonable amount of time and must be able to lift 30 lbs unassisted.
Our clinics are located at 2646 Toomey Avenue, Charlotte, NC 28203 & 8315 Byrum Drive, Charlotte, NC 28217
The Spay/Neuter Clinic is open Monday – Friday. Volunteer hours are from 9:00 am – 5:00 pm. Volunteers are asked to commit to at least one shift per week for a minimum of 4 hours per shift.
If interested, please:
Fill out our Volunteer Profile
Attend an information session.
Be 18 years old or older.
Be able to donate at least 8 hours a month for 6 months.
Have good customer service skills
Support the mission, principles and policies of the Humane Society of Charlotte
If you would like to make a difference in the lives of our animals, we would love to have you join us!
---
HSC-YAP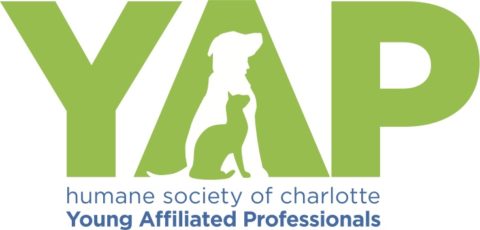 The Humane Society of Charlotte's Young Affiliated Professionals (HSC-YAP) brings together people who care about animal welfare and want to promote and support the mission of the Humane Society of Charlotte. HSC-YAP aims to bring together Charlotteans who want to help animals in need while getting to know like-minded professionals through social events, networking, volunteer and fundraising activities. Learn more about our Young Affiliated Professionals.
---
If you have any questions, please contact Zinnia Borland, HSC Volunteer Program Manager at volunteer@humanecharlotte.org.