HSC Staffer, Kayla Wade Awarded Exclusive Scholarship to World-Renowned Behavior Training Master Course
What is "aggression" when it comes to dogs?  
The term aggression gets thrown around often to describe animals that struggle to control their behavior, but in reality, the word aggression could easily be replaced with the words fearful, guarding, nervous, or reactive.  
Regardless of the description, dog aggression is one of the most common behavior problems reported to the Behavior & Training team at the Humane Society of Charlotte.  
Enter Kayla Wade, Behavior & Training Assistant at HSC.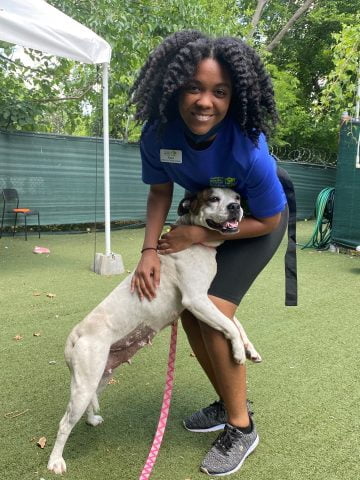 A native of the area, Kayla began working with the Humane Society of Charlotte in 2020. After a short period of time, she noticed that there was a need for specialized knowledge in understanding aggressive behavior in dogs and felt that she could become that resource for HSC and the Charlotte community. 
"Clients would come to me in the hopes that they could keep their dog, but we didn't have the resources to hire a certified behaviorist to help with these cases consistently," said Kayla.  
Kayla discovered the opportunity to further her knowledge on canine aggression while watching The Aggression in Dog's Conference presented by Michael Shikashio.  Not long after, a friend within the animal behaviorist community of Charlotte shared that Shikashio had posted on his Facebook page that he was offering BIPOC (Black, Indigenous, People of Color) scholarships for his next Aggression in Dogs Master Course.  
Kayla applied and was swiftly awarded the scholarship, which will allow her to complete the Aggression in Dogs Master Course, work with Shikashio as her mentor, and earn credits toward her CPDT (Certified Professional Dog Trainers) accreditation.  
How Will This Be Beneficial for the Humane Society of Charlotte? 
Anyone that has worked with Kayla was none surprised that she was awarded the scholarship. Kayla has a natural ability to connect with canines and displays an extraordinary level of compassion, kindness, and love of animals through her work. 
By completing the Aggression in Dogs Master course, Kayla will help HSC's Behavior & Training team take one step further in becoming an important resource in the Charlotte community, helping even more animals overcome their fears and find loving homes. By furthering our organization's knowledge and understanding of what aggression is and where it comes from, she will also be able to help train HSC staff to recognize, help and comfort dogs in need.  
Why Is This Important? 
Michael Shikashio is an internationally recognized expert on the topic of dog aggression. He is fully certified through the International Association of Animal Behavior Consultants and is trusted by animal welfare agencies worldwide. 
Using positive reinforcement tactics and a humane handling approach, his teachings help both pets and owners successfully navigate behavioral issues that demonstrate aggression. Ultimately, this leads to an increase in successful adoptions and more dogs in happy and loving homes. 
With her training, Kayla will be able to help work with dogs that have displayed aggressive tendencies by determining the root cause of the behavior and working with that dog to overcome his or her fears. Ultimately, the Humane Society of Charlotte will be able to welcome more dogs to our shelter, successfully place more dogs in loving homes, and save more lives. 
The Humane Society of Charlotte is proud to celebrate Kayla and her accomplishment, and is excited to learn from her experience.