Pet Palooza Walk for the Animals
presented by

April 27th, 2019
12-4pm
Meet Elmer Fudd, Dog's on Deployment's Military Pet of 2019 at Pet Palooza this weekend! Elmer is a 10-year-old Dachshund that was recently rescued by his parents. When rescued he suffered from a host of health problems, history of abuse, and even survived a bullet wound! He is now thriving and living his best life with his new parents! Elmer has recently been announced as 2019 Military Pet of the Year and the official mascot of Dogs on Deployment.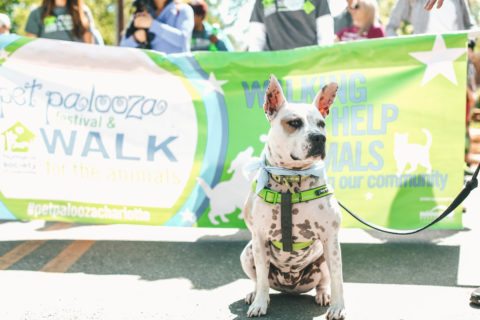 When: Saturday, April 27 | 12:00 – 4:00 PM
Where:  McAlpine Creek Park.
What: 3k Fundraiser Walk, 100 + vendors, Kids Zone, Adoption Area, Live Music, Food Trucks, & Beergarden.
Cost: FREE to attend. Kid friendly and pets are welcome (all pets must be on-leash).
Looking to join the walk? Register here!

Online registration ends Friday at noon. Those wishing to register afternoon on Friday, April 26th, can do so in person at McAlpine Creek Park on Saturday, April 27th starting at 11 am
—
Click the map below to view the event layout or
click here to see our full list of vendors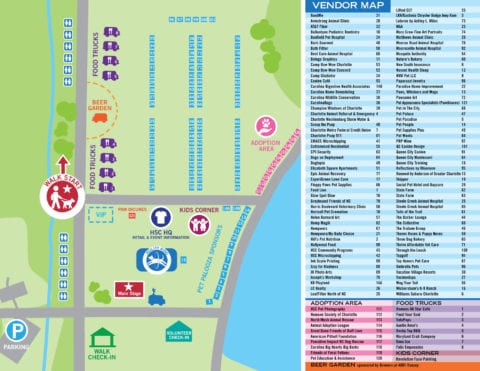 Sponsor & vendor registration for this event has closed.
Please check back next year!
Parking
Parking for Pet Palooza is free! McAlpine Creek Park is located at 8711 Monroe Road
Overflow parking can be found at Greenway Park Elementary School located at 8301 Monroe Road
*Please note, this lot is located on the same side of Monroe Road as the park
Secondary overflow parking can be found at Charlotte Secondary School located at 8601 McAlpine Park Drive
*Please note, this lot is located across Monroe Road, which can be difficult to cross
Parking is NOT permitted at 8600 McAlpine Park Drive – Convergys Corporation
---
Event Schedule
11am
Walk Registration and Check-in Starts (Walk Check In)

Check in or register
Pick up your t-shirt and bandana
Turn in any extra funds raised
Rally your team!
11:15am
Dog Friendly Bootcamp – $5 donation to HSC
Hosted by Queen City Training (Agility Ring)
*space is limited
11:50am
Walk for the Animals Kickoff with Derek James & Julianna White of WCCB
Say hey to the Charlotte Checkers mascot, Chubby and the Charlotte Knights mascot, Homer! (Walk Start Line)
12pm
Vendor Fair & Beer Garden Opens!
3k Walk Starts!
1pm
Official Welcome & Announcements/Awards (Main Stage)
Top Fundraisers
Best Dressed Pup
1pm-3pm
Lessons on how to Properly Approach Dogs with CMPD Officer Julia Conner (Kid's Corner)
2pm
Dog Body Language Lesson with CMPD officer Julia Conner (Main Stage)
4pm
        End of Pet Palooza 2019
Throughout the Day…
Live music from Olde #7 Band at the main stage
Animals from several local adoption groups will be looking for their fur-ever home in the adoption area
$15 Microchipping and FREE microchip checks at HSC & CMACC vendor locations #41 and #42
Purchase Humane Society of Charlotte swag at HSC HQ
Quench your thirst at the Thirsty Pup Pub Beer Garden sponsored by Brewers at 4001 Yancey
Grab a paw-dicure for your pup next to HSC HQ with a $10 or $15 donation to HSC
Run your pup through the Agility Ring with a $5 donation to HSC
Visit the Kid's Corner where Revolution Face Painting will be painting faces and giving glitter tattoos
Reminder: Payments for paw-dicures and agility ring runs will need to be made at HSC HQ
---
Reminders
There will be NO ATM on site, please prepare accordingly
If you plan on drinking, please remember your ID
Please enjoy your time in the Thirsty Pup Pub Beer Garden responsibly – drinking and driving will not be tolerated
If you are bringing along your furry best friend, please remember to pick up after them
If you are already registered to walk you will pick up your t-shirt (if you selected one at registration) and doggy bandana at check in on Saturday
Check in runs from 11am-12pm with the walk kicking off at 12pm
We'll see you soon!
---
Thank You To Our 2019 Sponsors
---
---
---
---
---
---
---
---
---
---
---
---