Meet Shelley & Cookie Lyttle, HSC Youth Program Manager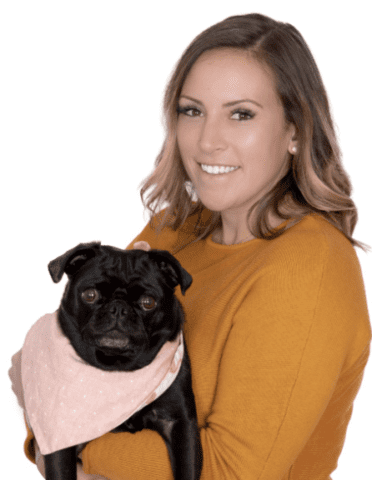 Shelley Lyttle | Youth Programs Manager: Shelley Lyttle is a former Charlotte-Mecklenburg Schools sixth-grade teacher and UNCC graduate. Prior to joining the Humane Society of Charlotte, Shelley taught Language Arts to grades 6-8 in the Charlotte-Mecklenburg School System. Aside from her work at Charlotte-Mecklenburg Schools, Shelley has also worked with Freedom School Partners.
Shelley received a Bachelor of Arts in English Language and Literature and a Masters in Secondary Education and Teaching from the University of North Carolina at Charlotte.
With her experience in Charlotte's education system, her passion for education and children has led to the creation and implementation of HSC's Youth Programs curriculum and programming.
Cookie Lyttle | Youth Programs Assistant: Cookie Lyttle is a 4-year-old pug that came to live with Shelley and her family at Christmas! Cookie came into her mom's life when she needed her most and has since inspired their family to rescue another dog, as well as foster countless others.
Cookie is an empathetic listener who excels in changing lives through education. She has the unique capability of staring into one's soul and is skilled at effectively highlighting one's natural strengths and talents. According to her mom, Cookie is a life-changer and soul shaker, ready to impact every life she touches.
Cookie earned her Canine Good Citizen certification in November 2021.
Email Shelley and Cookie with questions and to learn more about HSC Youth Programs.