Returning to the Office & your Pets: a series on navigating Separation Anxiety
After more than a year of working from home, HSC wants to assist pet owners and ease the transition back to the office. Since our pets have enjoyed our nearly constant company due to work from home mandates surrounding the COVID-19 pandemic, as we all begin to return to the office, our pets will face a re-adjustment period.
In honor of Take Your Dog To Work Day, celebrated on June 25, we're listing some important information on the growing trend among US workplaces: taking your dog to the office with you. The benefits of allowing your pet to accompany you to the office can be numerous, including avoiding separation anxiety and re-introduction of socialization. We also have a few tips & tricks to successfully add your dog as a co-worker.
[caption id="attachment_37281" align="alignright" width="220"]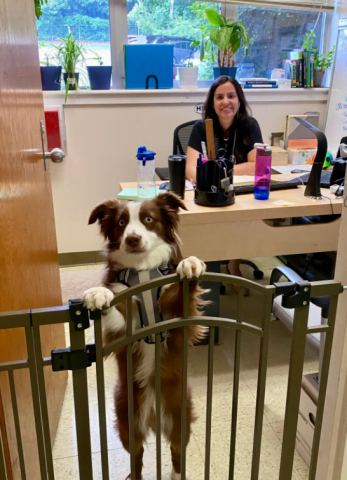 HSC Alumni, Shorty at work with his mom, Libby Jones, HSC VP of Operations[/caption]
Benefits of Taking Your Dog to Work post-COVID
National Take Your Dog to work day celebrates the immense love that we have for our pets. Beyond the benefit of avoiding separation anxiety in pets, there are some key benefits of adding your pet to the company roster.
All workplaces can prove stressful at times. Science has proven many times over that our pets are one of our greatest sources of stress relief. Bringing that feeling of calm with you when you head to work provides for a more productive workday.
Pets help to promote positive interactions. Everyone at the office is going to want to stop by and pet your dog. This common point of interest can help to bridge gaps between coworkers and promote cooperative communication.
Decrease in pet care costs. If you typically employ a dog walker or take your pet to doggy-daycare, the costs can quickly add up. By taking your pet to work with you, you eliminate the need for those services. Problem-solved.
Avoiding Separation Anxiety. Even in the times before the COVID-19 pandemic, many dogs suffered from separation anxiety. By letting your pet accompany you to work, you can avoid your pet's distress entirely.
Tips & Tricks for Successfully Bringing Your Dog to the Office
Always ask first. Even though more workplaces are allowing pets to come to work, each office has its own set of rules and policies. Pets may be required to exhibit, or not exhibit, certain behaviors, provide health paperwork, etc. Always check with your HR representative before bringing them with you.
Prepare A Doggie Bag. Make sure you have everything your pet needs for the day including somewhere comfortable to rest, access to water, treats, toys to stave off boredom, and poop bags to clean up after them.
Consider Squeak Free Toys. Even under the most accepting circumstances, dogs in the workplace can be distracting and a constantly squeaking tennis ball can be annoying. Grab your pet's squeak-free toys for the office and keep those tennis balls at home.
Schedule Regular Bathroom Breaks. None of your coworkers want to be surprised by an accident in their office.
[caption id="attachment_37283" align="aligncenter" width="360"]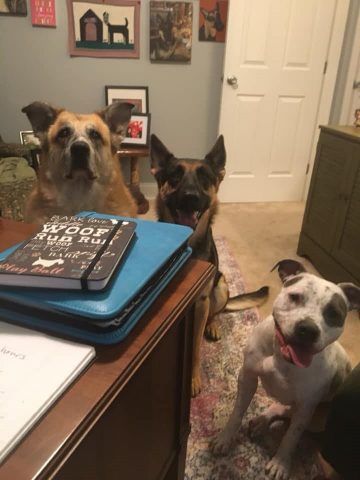 "Staff Meeting" with pets including HSC Alumni, Cookie[/caption]