Roto-Rooter Pet Rescues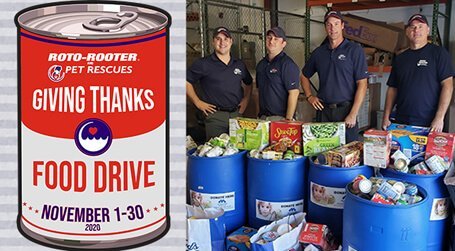 When you think of Roto-Rooter, pet rescue isn't often the first image that comes to mind. It's no surprise though, that Roto-Rooter is often called out to help save a pet or wildlife creature that has become stuck in pipes, drains or other precarious openings.
Roto-Rooter understands the importance pets play in their family's lives, which is why they offer FREE pet rescue services when called upon. In their own words, they see it as "their duty to the communities they serve."
But animal rescue goes beyond pipe excavation for Roto-Rooter. This holiday season, they decided they wanted to do more for the animals who are still waiting to meet their loving families. With a donation of at least 2 canned goods to their Giving Thanks Food Drive, Roto-Rooter is offering a 10% discount on any plumbing or drain service (up to $75 off) at participating locations, November 1 - 30.
At the end of the month, each participating Roto-Rooter location will make a donation to their local Humane Society or shelter, including the Humane Society of Charlotte. Donate today!
Find participating locations HERE.